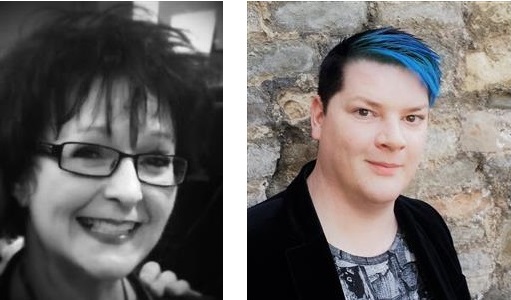 Two UWE Bristol members of staff have been awarded MBEs in this year's Queen's Birthday Honours list.
Dr Becky Hoskins, Senior Lecturer in Emergency Care and Consultant Nurse at University Hospitals Bristol NHS Foundation Trust, was made MBE for services to emergency nursing care.
Placement Coordinator Daryn Carter, who is Director and Programmer of Bristol Pride, was also made MBE for services to the LGBTQ+ community in Bristol.
Dr Becky Hoskins MBE
Becky has a long association with UWE Bristol. After qualifying as a nurse in 1989 from the Bristol and Weston School of Nursing which then became Avon College of Health and subsequently UWE Bristol's Faculty of Health and Applied Sciences, she then undertook her RN child training at the University in 1996.
Working as a Sister in the emergency department at Weston Hospital she then moved to Bristol Children's Hospital as clinical nurse manager and in 2000 took up a part-time senior lecturer post at UWE Bristol teaching and developing emergency care courses alongside Dr Sally Moyle, combining the role with a Sisters post in the BRI and then became a lecturer practitioner.
On receiving her MBE Becky said: This reflects the work of the whole emergency nursing team and I'm incredibly grateful for this honour and feel very humbled. I am passionate about emergency nursing and advanced practice and the positive difference it can make to patients. It's our job to be excellent problem solvers, and it's a brilliant career. You start because of the adrenaline rush, but you keep at it for the chance it gives you to make things better for patients and their families and to create order in the chaos.
"When I became the Matron in the emergency department at the BRI I enjoyed teaching at UWE Bristol so much that I combined both roles. I was lucky enough to gain a joint-appointment in 2004 as the first consultant nurse in emergency care and senior lecturer in emergency care at the University. I think I have had the best job in the world since then and am proud to lead advanced practice in the faculty."
Marc Griffiths, Pro Vice-Chancellor and Executive Dean of Health and Applied Sciences, said: "Becky has been rightly recognised and honoured for her extensive contribution and commitment to the field of emergency care through the award of an MBE.
"We are all incredibly proud of Becky's achievement and this award demonstrates our commitment to working with local NHS partners, in this instance University Hospitals Bristol and Weston NHS Foundation Trust. Becky is integral to a number of education programmes here at UWE Bristol and across the city, involved in key research projects and a member of the newly launched Research in Emergency Care, Avon Partnership Hub (REACH)."
Daryn Carter MBE
Daryn first joined UWE Bristol in 2011 as a Project Officer in the then Student Enrichment Team, supporting wider community engagement, faith and cultural activities at the Community Hub and Student Volunteering. He left at the end of 2014 but returned in October 2017 as part of the Placement Team and is currently a Placement Coordinator for the Faculty of Business and Law.
Before he joined UWE Bristol Daryn was a Recruitment Manager for the BBC where he had worked since 2002 after a short stint in children's television. Claims to fame include looking after Geri Halliwell's dog and successfully remembering the drinks order for the whole of S Club 7.
Daryn took voluntary redundancy in 2009 which was ideal timing as it allowed him the time to turn up to an initial planning meeting for those interested in trying to make a Pride event happen in Bristol. Before he knew it he was one of the founders of Bristol Pride and spent most of 2009 working on a kitchen floor planning the delivery of the first event in 2010 which saw 4,000 people turn up throughout the day.
Daryn's carried on through the years working tirelessly to grow the festival and increase its impact, reach, representation and the support the festival offers to the community. He's also worked to futureproof the festival, and in 2019 successfully moved the festival to The Downs and welcoming 40,000 visitors as well as 18,000 on the Parade march. Although due to step down this year, Daryn has remained in place to steer the charity through the challenging landscape of Covid-19. Daryn also does lots of schools engagement work talking about being LGBT+, works with local businesses across the region to support diversity and inclusion and sits on the University of Bristol diversity advisory panel, the ITV diversity panel and was one of the founding members of Bristol Festivals.
On receiving his award Daryn said: "It's a little surreal to me made an MBE and it was rather unexpected. Diversity and inclusion mean so much to me and even before Pride it was an area I was working in through my role in recruitment and outreach at the BBC.
"As an openly gay man I see every day the impact that equality and diversity, or lack of, can have on us as a whole society and that is the motivation to keep striving to make the world a better place for us all. It's not about accolades but when it can often feel like a very large hill to constantly climb it's certainly nice when it happens. I'm extremely humbled and proud. For me it felt extra special to not only have been nominated by members of the public but to be named for services to the LGBTQ+ community. Sometimes this can be erased and it's nice to know that this category exists and for that to be an additional platform for visibility for the community.
"I'd like to thank those that have supported me throughout the years, be that through events, a friendly ear or staff who have volunteered with us. Mostly a shout out to my wonderful colleagues in the Placement Team who have been so supportive, cheering me on and allowing me to snuffle up all the leave time at the start of July so I can be off to deliver Pride."