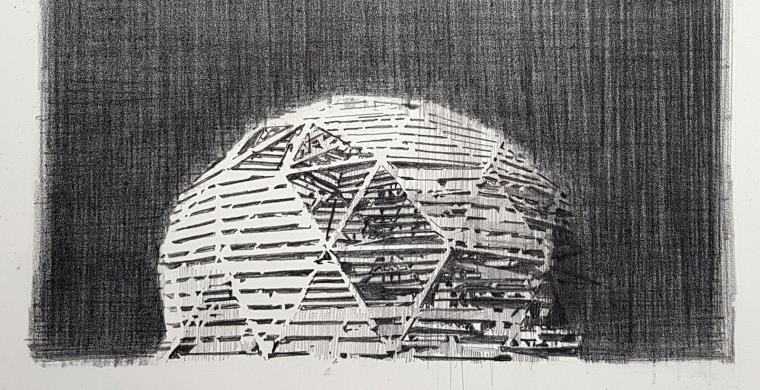 Ian Chamberlain, a senior lecturer at the University of the West of England (UWE Bristol), has been shortlisted for the prestigious Derwent Art Prize.
The competition showcases the very best 2D and 3D artworks created in pencil by artists from around the world; this year it received over 6,100 entries by 2,325 artists from 43 countries.
Ian, who lectures in MA Multi-Disciplinary Printmaking and BA Drawing and Print, will exhibit two pieces of his work - Shelter and Shelter XXXIV - alongside 54 other artists at Gallery@OXO in London, where the winners will be revealed at the exhibition opening on 23 February.
His shortlisted drawings are part of a broad body of work focusing on the themes of shelters, boundaries and frontiers.
Ian said: "During lockdown I had to simplify my approach. I had no access to print facilities and, like many others, had to deal with the balance of family life with two children.
"My work focused on our basic need for shelter and I started to record a wide range of architectural forms, using the structures as a metaphor to highlight notions around isolation, boundaries and the need to rebuild.
"The structures are isolated through their composition; some have been built and some are in the process of being made. The skeleton and framework of the structure laid bare heightens our sense of vulnerability and openness to the elements and attack.
"Creating this work became a cathartic process and gave me a rhythm and repetition which has led to over 40 of these drawings."
The Derwent Art Prize exhibition at Gallery@OXO in central London will be open to members of the public from 24 February – 6 March 2022. It is then scheduled to tour internationally.
This is just one of a number of recent high-profile successes for Ian; he was selected for the Trinity Buoy Wharf Drawing Prize (exhibited in Trowbridge until 5 March) and one of his etchings is displayed as part of the Hockney to Himid exhibition at Pallant House Gallery in Chichester until 24 April.
"I'm very honoured to be among such great company in these exhibitions," added Ian. "It's always good to get recognition from peers as a sense of validation and this will hopefully open up new opportunities for me in the future."
Ian graduated in Illustration from UWE Bristol in 1998 before completing a MA in Multi-Disciplinary Printmaking between 1999 and 2002.
Ian will also be doing an artist's talk at Spike Print Studio in Bristol on 15 February.