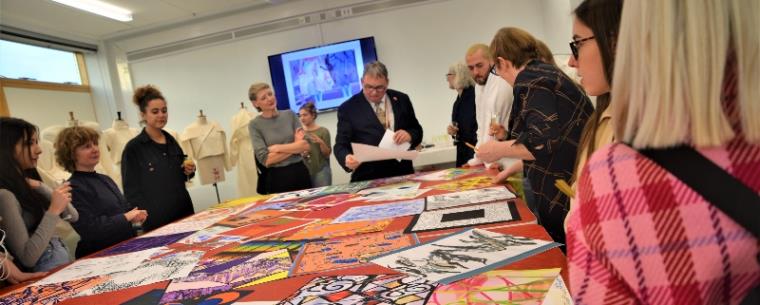 Students and staff on the Fashion Textiles programme celebrated the launch of the 2020 Fashion Enterprise project.
The project is a cross-year group design project to design a 90x90cm silk scarf. A shortlist of entries is made at the event and Betty Jackson CBE selects a winning entry. This is put into limited edition production for distribution via UWE Bristol gifts and online platforms.
At the event, the shortlist was announced by Professor Steve West, Vice-Chancellor at UWE Bristol who joined the celebration to present last year's winner, Amber Louise Webb, with her prize.
Scarves are one of the most iconic Fashion products available on the market and are often viewed as the perfect product to bridge the gap between Fashion and Art. The first Hermes scarf was produced in 1937 and since then designers and brands have been marketing them as both collectable fashion artefact and high fashion product.
The 90x90 format provides an ideal format to showcase 2D design work and the student competition promotes the excellence of student work undertaken on the Fashion Textiles programme and highlights our excellent creative partnerships.
The scarves are available for purchase in UWE Bristol's online shop.