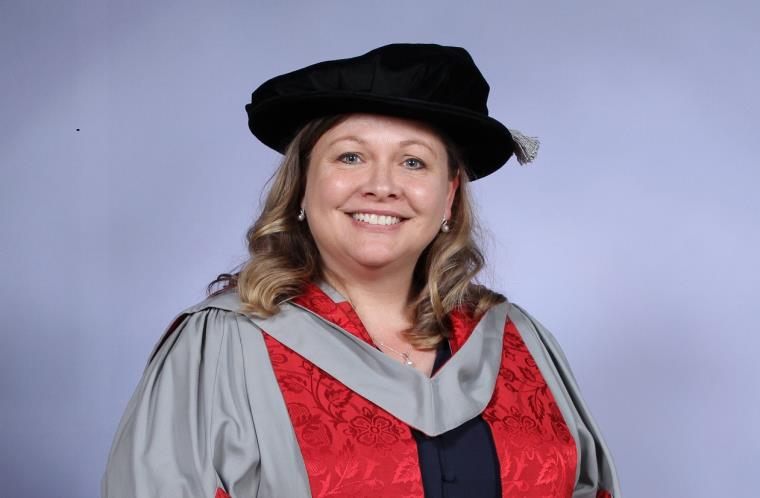 Tracy Daszkiewicz, whose prompt action and decision-making proved vital for the containment of the highly lethal nerve agent Novichok during the 2018 Salisbury poisonings, is one of eleven recipients of Honorary Degrees awarded by the University of the West of England (UWE Bristol) this summer.
Spanning areas of expertise and leadership across television, sustainability, public health, banking, engineering, higher education and community work, all the recipients were recognised for outstanding achievements in their chosen fields, and for their significant contributions not only to the university but to the wider Bristol region.
The Honorary Graduates were conferred during UWE Bristol's graduation ceremonies held at Bristol Cathedral between 18 – 29 July. They are:
Dr Bevis Watts – Bevis is the Chief Executive of Triodos Bank UK. Dubbed by some media as 'the first environmentalist to run a UK bank', Bevis has spent 25 years working in sustainability in public, private and voluntary sectors, including environmental research, the recycling industry, conservation and banking.
Ravi Naik – Ravi is described in legal directories as 'pioneering' and 'a leading light in data protection', whose 'knowledge in the area is unparalleled'. His work has led to numerous awards, including being named the Law Society's Human Rights Lawyer of the Year in 2018 – 2019. He is currently a Visiting Fellow at Oxford University's Internet Institute.
Dr Nike Folayan MBE – Nike is a Chartered Electronics Engineer. A technological innovator, Nike has been at the forefront of developing pioneering communication and control solutions for various major railway schemes, including HS2 and Crossrail. She is also a Fellow of the Institution of Engineering and Technology.
Professor Nira Chamberlain OBE – Nira is a professional mathematician. In the last decade he has been recognised as the World's Most Interesting Mathematician, Science Council UK's Top 100 Scientists, Power List 5th Most Influential Black Person in the UK (2018), and the first black mathematician to appear in the Who's Who. Nira became President of the IMA on the 1st of January 2020, which is the UK's chartered professional body for mathematicians and one of the UK's largest learned societies for mathematics.
Serrie Chapman – Serrie studied as a mature student and qualified with a degree in computing for real-time embedded studies from UWE Bristol in 2002. Since gaining her degree she worked for Infineon Technologies doing hardware pre-silicon verification on automotive systems on chips, moving on to requirements management, product management and then into consulting on the Network Rail electrification project before moving to her current role as principal Safety Engineer at Fusion Processing working on the first driverless bus in Scotland.
Dr Robin Nicholson CBE – Robin is an architect with over fifty years of practice, interspersed with teaching, lecturing, championing design quality and responding to the climate and biodiversity emergency. Robin co-founded the Edge, a voluntary think tank for the built and natural environment (www.edgedebate.com).
Grant Mansfield – Grant is the founder and Chief Executive of Plimsoll Productions. Before launching the company in September 2013, he spent three years in LA as CEO of Zodiak USA, where his credits include Secret Millionaire and Celebrity Wife Swap. Before that, as Director of Programmes at Granada TV, Grant was responsible for the launch of I'm A Celebrity, Get Me Out of Here and oversaw a large slate of non-scripted and scripted shows including Coronation Street and Cold Feet.
Roger Griffith MBE – Roger is a writer, social entrepreneur, lecturer and activist. He has been a diversity trainer and champion for over 30 years. His work in Bristol on scores of community projects he's led, has changed the lives of many. At UWE Bristol, in his role as Associate Lecturer and Diversity & Community Projects, he's been central to work to decolonise the curriculum.
Sonia Mills – Sonia was born and educated in Bristol before going to Cambridge, leaving with a degree in Biochemistry. Later she was to add MSc in Social Sciences from Bristol University through part-time study. She returned to Bristol to begin a career in management with the NHS. In 2003 she was appointed CEO of North Bristol Trust. She led the planning and development of the new Southmead Hospital and the refurbishment of Cossham Hospital in Kingswood. Sonia has also contributed to the ongoing life of Bristol via trusteeship of a range of organisations, be they charities for older people, education trusts, research societies and currently the redevelopment and operation of Bristol Beacon.
Tracy Daszkiewicz – Tracy has over 25 years' of experience working in health and social care, across the civil service, NHS, Local Government and the Voluntary Sector. She began her career in the voluntary sector working with people living with or affected by HIV in the 1990s. From here she worked with young people living with complex needs and multiple vulnerabilities, including supporting young parents, and young people being exploited into crime, sexual exploitation, or addiction.
Tracy has expertise in Disaster Risk Reduction and Recovery. She has worked on a number of major incidents, including; pandemic flu, flooding, Foot and Mouth, Anthrax, and HIV. She was the Director of Public Health and led the local public health response during the Novichock incident in Salisbury in 2018 and more recently she has worked on the Covid response.
Dr Tony Juniper CBE – Tony is a prominent environmental figure, active in the defence of nature for more than 35 years. He began his career as an ornithologist and went on to join Friends of the Earth, initially leading the tropical rainforest campaign and then was appointed as Executive Director. He worked as an advisor to HRH The Prince of Wales, was President of the Royal Society of Wildlife Trusts and was an Executive Director at WWF-UK. He is now the Chair of Natural England and a Fellow with the University of Cambridge Institute for Sustainability Leadership.
Vice-Chancellor of UWE Bristol, Professor Steve West, said: "We are delighted to have welcomed these exceptional individuals to receive their Honorary Degrees alongside all our outstanding graduates this year. I'd like to send my warmest congratulations to them all; I'm sure they will inspire and encourage our graduates as they take their first steps into their chosen careers."