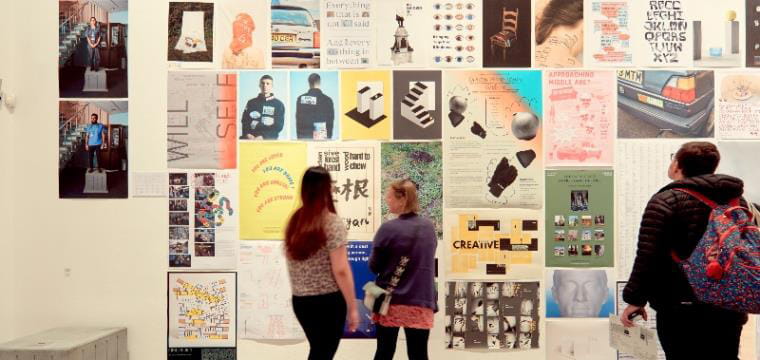 UWE Bristol is partnering with Rhombus Studio to showcase the work of its graduating students across the whole creative sector. The Digital Showcase site will feature the work of more than 800 students from 25 UWE Bristol creative industries programmes across art, design, animation, photography and moving image.
Jacqueline Butler, Head of School of Art and Design, said: ''The first weekend in June usually marks the Private View for the annual UWE Degree Show. Postponing this highly anticipated, celebratory fixture in the creative calendar was one of the hardest decisions we had to make at the start of lockdown. We are determined to support our graduates launch their careers, and the 2020 Digital Showcase aims to do that.
"We're delighted to be working in collaboration with final-year students on this project and with Rhombus, a leading Bristol-based design studio –founded by UWE Bristol Graphic Design alumni - that fundamentally understands the challenges and the importance of promoting and supporting young creatives.''
Over the coming weeks, UWE Bristol students and staff will be working together to prepare and curate material for the site which will be launched in July.
Simon Day, Rhombus Managing Director, added: ''We started Rhombus when our Creative Director James Ratcliffe was a few years out of his UWE Graphic Design degree. Working with the incredibly talented graduating students and staff on this important, fast-moving project is an exciting challenge - given the tight turnaround of weeks rather than months - and also a real privilege to support showcasing new creative talent.''
Though no substitute for the Degree Show – an annual highlight for the city of Bristol and the creative sector – the online platform is a means to showcase new talent and to support professional practice, enterprise and employability, helping hundreds of graduates to join the creative workforce for the future. It also has the potential to reach a wide range of influential audiences around the world, whilst building momentum and visibility for future shows and screenings of new talent.
UWE Bristol programmes taking part in the Digital Showcase include: BA(Hons) Animation, Creative Media Design, Drawing & Print, Drama & Acting, Fashion Textiles, Fashion Communication, Filmmaking, Fine Art, Graphic Design, Illustration, Interior Design, Journalism, Media Culture, and Photography; MA Animation, Design, Fine Art, Graphic Arts, Journalism, Multidisciplinary Printmaking, Photography, and Wildlife Filmmaking.