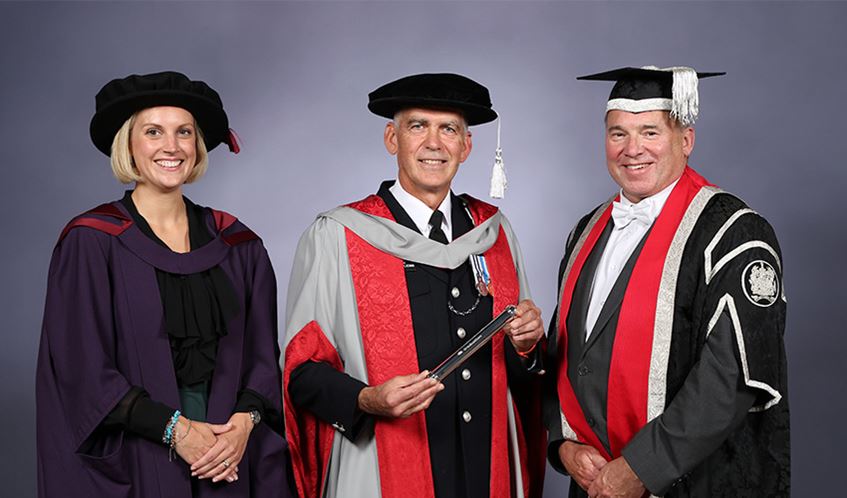 A senior British police officer, a renowned Bristol pharmacist and a leading Equality, Diversity and Inclusion expert, are among seven recipients of honorary degrees presented during UWE Bristol's summer graduation ceremonies at Bristol Cathedral.
Spanning areas of expertise and leadership across a variety of areas, including health, climate change, science communication and architectural education, they were all recognised for outstanding achievements in their chosen fields, and for their significant contributions not only to the university, but to the wider Bristol region.
The Honorary Graduates were conferred during UWE Bristol's graduation ceremonies held between 17 and 28 July. They are:
Jane Hadfield – Doctor of Business Administration
As a Registered Nurse, Jane has worked for most of her career in the NHS in Bristol, in clinical leadership roles in secondary care, leading teams in complex clinical environments, including critical care, surgery, research, practice development and cancer, and the last twenty years as a Learning and Development/OD Specialist.
Jane's grounding in leadership development includes working with the NHS Leadership Academy and academic partners, notably UWE Bristol, in delivering innovative development programmes in clinical leadership. Jane now holds a national role with NHS England, leading a programme designed to embrace widening access, participation, and inclusion.
Elizabeth Parkes MBE – Doctor of Science
Liz lead's the Environment Agency's work on climate change and public health, with a particular focus on helping the country to be better prepared for the impacts of the changing climate. Liz also works closely with Government on regulating to driving down greenhouse gas emissions. Liz has spent her whole career in public service, previously heading up the Environment Agency's work on waste and resource management.
Liz is Chair of the Chartered Institution of Wastes Management, where she is supporting the sectors transition to a 'world beyond waste'. Liz lives and works in Bristol, where she is a member of Bristol's Advisory Committee on Climate Change. Liz's contribution to environmental protection and climate change was recognised in the 2022 New Years Honours List.
Professor Lal Balasuriya – Doctor of Arts
Professor Lal Balasuriya is a Chartered Architect and Urban Designer, a past President of the Sri Lanka Institute of Architects and elected Honorary Fellow in 2009. In 2012, during his tenure as the Head of School for the City School of Architecture (the largest and longest standing private architectural provision in Sri Lanka) Professor Lal helped to establish and grow UWE Bristol's first transnational partnership in Sri Lanka. Since then, over 500 students have graduated and are already making their mark in the architectural profession in Sri Lanka and beyond. For over forty years Professor Lal has been one of the most significant academic figures to transform architectural education in South-East Asia.
Chief Constable Andy Marsh QPM – Doctor of Laws
Andy joined the College of Policing as Chief Executive Officer in 2021. His police career started in 1987 as a constable in Avon and Somerset Police. After operational and detective roles at various ranks, he went on to lead Hampshire and, latterly, Avon and Somerset, as Chief Constable, and is the longest serving Chief Constable in England and Wales.
In Avon and Somerset, he oversaw the roll-out of the new Police Education Qualification Framework (PEQF) leading to the creation of a degree entry route for policing. In turn, Andy supported the development of a robust, ambitious and well-crafted partnership with UWE Bristol, which continues to go from strength to strength.
Malcolm Love – Master of Science
Malcolm is an independent producer, radio host and lecturer in Science Communication. Malcolm joined the BBC in 1988 working in London, Cardiff and Bristol where he became senior producer for features and documentaries. In 1997 he became interested in Science Communication when he was invited to be a visiting lecturer on one of the UK's earliest Science Communication courses at Birkbeck College, London. UWE Bristol's Professor Frank Burnet invited him to help teach a new Master of Science in Science Communication at the university - a role he recently relinquished after 20 years. Malcolm is part of the group that created and established 'FameLab', the largest, public facing, science communication competition and training programme in the world.
Adeyemi (Ade) Williams MBE – Doctor of Science
Ade is Superintendent Pharmacist at the multi-award-winning Bedminster Pharmacy, a Healthy Living Pharmacy in Bristol. Awarded the 2019 NHS Parliamentary Award for Excellence in Primary Care, he is a Fellow of both the Royal Society of Arts and the Royal Society for Public Health. Alongside being a Royal Pharmaceutical Society Fellow, he is also the profession's Patient Champion.
His enthusiastic input to finding pragmatic, scalable solutions for complex health and policy matters, alongside a passion for engaging and empowering patients, makes him part of many national and cross-professional working groups and campaigns. He is a Trustee and Board Member of the Self Care Forum Charity and an NHS Vaccine Hero – promoting broader access and increased vaccination uptake.
Simon Nelson – Master of Education
Simon is the founder and owner of Same Difference, an Equality, Diversity and Inclusion training and workplace mediation service. He launched the service after spending 25 years working in the field of EDI with Bristol City Council, British Airways, UWE Bristol and Avon Fire & Rescue Service.
Born in High Wycombe, Simon was one of five children of West Indian heritage – the Windrush Generation. After years of working in the private and voluntary sectors Simon made the move to Bristol and soon became immersed in the culture of his new home city. As a black gay man, he noticed the disconnect between communities and helped establish a steering group that supported a new gay pride. This has grown year on year, to now being one of the most successful Prides in the world.
UWE Bristol's Vice-Chancellor Professor Sir Steve West, said: "It's been an honour to welcome these distinguished individuals to celebrate their achievements alongside all our outstanding students graduating this summer.
"Their contributions are many and varied, and I hope they will inspire our graduates as they take their first steps into their chosen careers."
You may also be interested in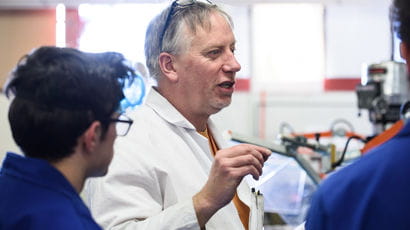 Media contacts are invited to check out the vast range of subjects where UWE Bristol can offer up expert commentary.