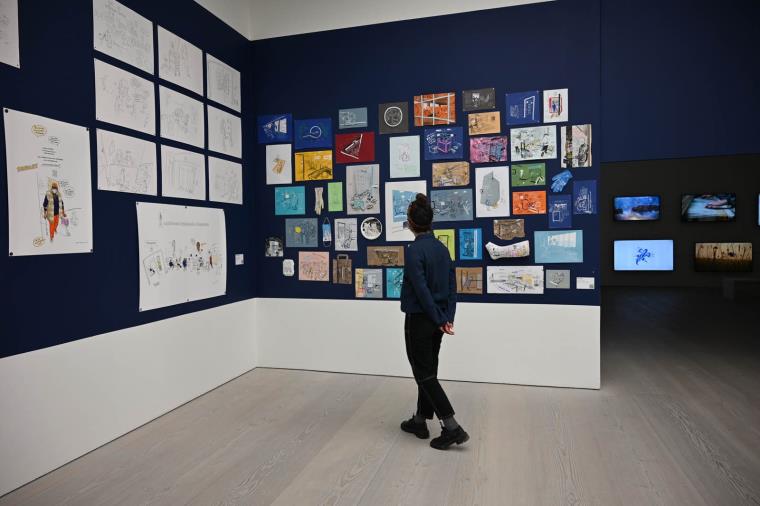 A selection of drawings created and collected during a UWE Bristol-funded research project are featuring in a new exhibition Journeys: The Healing Arts, at the Saatchi Gallery in London.
The exhibition is a selection of bespoke artworks from the CW+ art collection, commissioned to enhance the environment and improve patient outcomes at Chelsea and Westminster Hospital Trust. CW+ is the official charity of the Trust and this is the first time it's exhibited artworks from its collection on this scale to a wider public within a gallery setting.
The UWE Bristol Drawing Research Group was commissioned by CW+ to undertake a residency at Chelsea and Westminster Hospital over a six-month period. During the project, a number of drawings were created and collected, including:
Drawings created by medical staff as part of their own medical practices
Drawings created on site at Chelsea and Westminster by the UWE Bristol Drawing Research Group team, recording hospital life through Reportage drawing.
Drawings created during workshops which UWE researchers designed and ran for medical staff at the hospital.
The resulting drawings are forming the initial findings of the UWE Bristol research project called 'Exploring the role of drawing as a (research) tool for collecting data in medical practice' and is in collaboration with the Faculty of Health and Applied Sciences. This project hopes to identify and define further potential research leads and outcomes in this area.
UWE Bristol Associate Lecturer and Chelsea and Westminster Hospital drawer-in-residence Anouk Mercier said: "This residency has provided us with a fascinating opportunity to draw onsite alongside medical staff at the hospital during a uniquely challenging time for the NHS. We are delighted that the exhibition at Saatchi Gallery is allowing us to showcase drawings collected and created during this time, with a wide audience."
In addition, UWE Bristol has collaborated with CW+ and Saatchi in organising a webinar on the theme of Drawing in Hospital… what is the role of mark making in contemporary healthcare, which will take place on Wed 8 December.