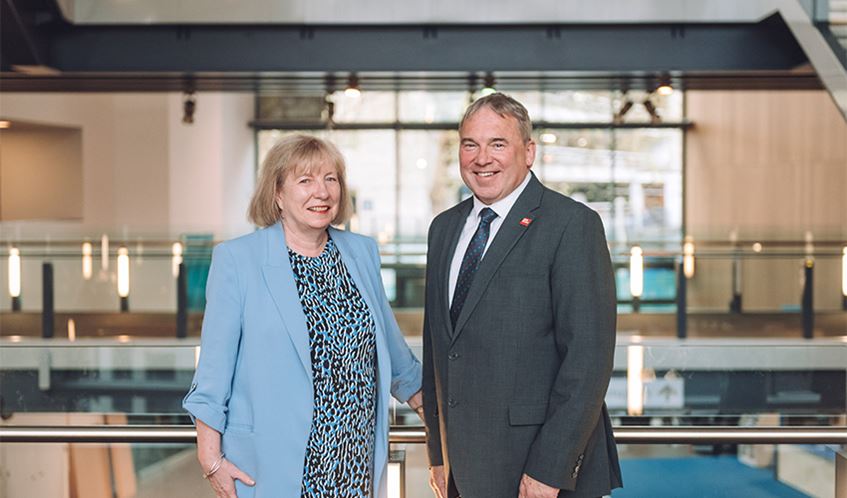 The University of the West of England (UWE Bristol) and Bristol Beacon are pleased to announce a partnership today, Tuesday 9 May, with Bristol Beacon becoming the new venue for UWE Bristol's graduation ceremonies from July 2024.
As well as Bristol Beacon hosting UWE Bristol's graduation ceremonies and other large-scale university events, the partnership will offer UWE Bristol students more opportunities to access creative and cultural experiences outside of their course disciplines, including Welcome Week events, exhibitions, gigs, academic programmes and through UWE Bristol's Centre for Music.
This partnership with the charity Bristol Beacon will make use of the transformation of its flagship venue, which is now close to completion and will reopen in November 2023. Bristol Beacon will be one of the best and most accessible performance and music education venues in Europe, with two international standard performance venues, restaurants and bar, and with the historic cellars being used for the first time as education and performance spaces.
Bristol Beacon will have the highest possible accessibility rating, including flat wheelchair access across the venue and onto the stage, accessible toilets, hearing systems, and trained specialised staff, which will ensure all UWE Bristol students, staff and guests will have a fully accessible graduation experience. The music charity also shares UWE Bristol's goal to become a net zero organisation by 2030.
Professor Steve West CBE, Vice-Chancellor of UWE Bristol (pictured), said:
"We are delighted to enter this new partnership with Bristol Beacon, an organisation that shares our values and focus on inclusivity, diversity, and sustainability. Bristol Beacon is one of Bristol's most iconic historical and cultural venues, and as it prepares to re-open and in UWE Bristol's 30th anniversary year, it feels like the perfect moment in both our histories to work together to create fantastic opportunities for our students and staff.
"While we have been very proud to host our graduation ceremonies at the stunning Bristol Cathedral over the past 30 years, we are confident that Bristol Beacon will provide a wonderful venue for our graduation ceremonies from next year. We look forward to welcoming our students and their loved ones there in July 2024."
Louise Mitchell CBE, Chief Executive of Bristol Beacon (pictured), said:
"Our new partnership with UWE Bristol perfectly encapsulates the benefits and opportunities that the completion of our building transformation will bring to the city. It is fantastic to enter into this broader partnership, which enables us to go further in our shared values of inclusion, diversity and sustainability. This is a great example of how Bristol Beacon can, through successful corporate partnerships, ensure our mission of unity and joy through live music is felt across the city."