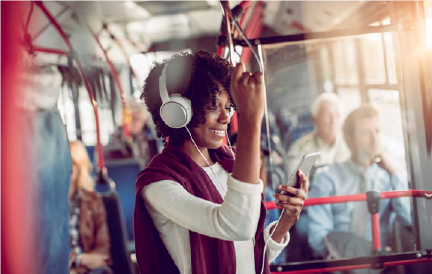 Young people aged 16–24 use buses far more than older age groups and have lower access to a car, yet they face a postcode lottery in accessing free and discounted bus fares, new work has revealed.
Bus fare support varies significantly across the UK, with some areas offering no support beyond the age of 16. In areas with support, there is considerable variability in the type of offer provided, as well as the ages which are eligible for support.
Experts say that local and national governments need to work with their young population to introduce financial support on fares up until the age of 25.
Costly bus travel harms the life chances of young people by reducing opportunities to access education, training and employment.
Researchers from UWE Bristol and sustainable transport charity Sustrans examined current offers for young people across the UK, as well as ambitions for young person fares in the Bus Service Improvement Plans of 79 local transport authorities in England, published in November 2021. They discussed what they found with a group of young people, who helped them develop a set of proposed policy actions.
The researchers found that, although there has been an increase in ambition to reduce bus fares for young people, the disparity across the UK remains stark.
Professor Kiron Chatterjee, an expert in travel behaviour, said: "In some local transport authorities, we found minimal or no aspirations for support beyond the age of 18, while in other areas young people are offered free bus travel. According to the bus service improvement plans we reviewed, the upper age eligibility also varies considerably across the UK from 17 up to 29."
The research team produced a policy briefing which also includes case studies of existing schemes, which will be sent to key decision makers in national and local governments and the transport sector for consideration.
Dr Sarah Collings, Senior Research Fellow in Transport and Young People at UWE Bristol, said: "The recent publication of local Bus Service Improvement Plans in England, along with national policy developments in Wales and Scotland, means now is an important time to highlight what young people need from bus fares.
"We are calling on governments to match ambitious offers already seen in some parts of the UK and, in doing so, help their young population to thrive. Young people tell us that this should include introducing free or flat fares, such as the free travel offer which is already available to under 22s in Scotland or the 80p flat fare offer for 16–21 year olds in South Yorkshire. They say support should extend up to the age of 25 and that decision makers should work with young people to develop their offer."
Andy Cope, Director of Evidence and Insight at Sustrans, said: "Young people are often reliant on buses to get to education or work and, amid historical cuts to services and a cost of living crisis, it's vital they can access transport. At present there's a postcode lottery of local and regional discounts for a range of ages, which is not fair and hardly in the spirit of levelling up. Of course, while walking and cycling have an important role to play, for longer journeys buses can be a lifeline.
"As such, we are also calling on each of the UK nations to set out a minimum offer for young people aged up to 25 and to support local authorities to move towards this. This will lead to a greater consistency and fairness for young people across each nation."
Martina Kane, Policy and Engagement Manager at the Health Foundation, which funded the research, said: "From accessing education or work, to participating in out-of-school activities, or being able to meet with their friends, transport unlocks opportunities for young people and enables them to lead fulfilling and healthy lives.
"What has emerged is a concerning picture of how unaffordable bus costs hinder young people from accessing these opportunities during this vital period of their development. The Health Foundation is pleased to support this important report which sets out the crucial policy solutions that will improve chances for young people across the country."
Kiron Chatterjee concluded: "We recognise that there are considerable challenges facing local and national governments and operators in achieving their ambitions for buses.
"However, the policy briefing published today makes an important contribution in that it highlights the needs of a group whose voice is often not heard at the table when decisions are made."
The policy briefing also includes case studies that explore the policy justification and outcomes of existing, ambitious schemes: can be found Fair Bus Fares for Young People Policy Briefing.
It was produced as part of the Transport to Thrive project, which aims to build the case for transport policy that better meets the needs of people aged 16-24. Transport to Thrive is part of the Health Foundations Young people's future health inquiry.
The Health Foundation is an independent charity committed to bringing about better health and health care for people in the UK.