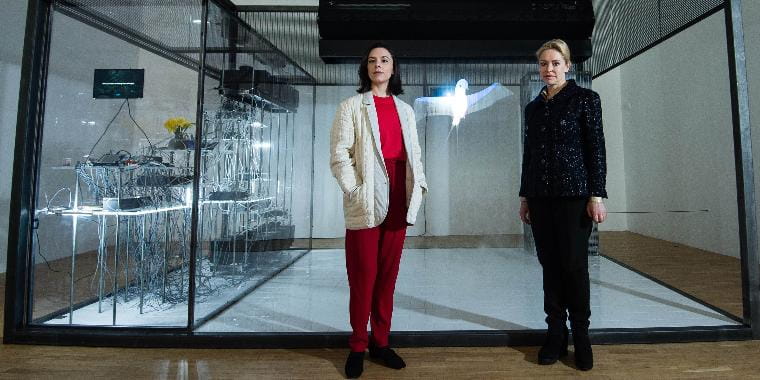 Technology developed at the University of the West of England (UWE Bristol) features in an art installation in a major new show at a renowned London gallery.
'Smart bricks', capable of recycling wastewater and generating electricity from sunlight, have been developed by a team of scientists at the University as part of pan-European project bringing together living architecture, computing and engineering. The bricks, designed for buildings of the future to tackle sustainability issues, features in Is This Tomorrow? at Whitechapel Gallery.
UWE Bristol's work has been included in one of 10 new experimental multimedia projects responding to critical issues of today to offer speculative visions of the future. The technology forms part of an installation by artist Cécile B. Evans and Rachel Armstrong, Professor of Experimental Architecture at Newcastle University.
Their installation incorporates microbes that are found inside the 'living bricks' which can clean water, reclaim phosphate, generate electricity and facilitate the production of new detergents as part of the same process. The exhibition features 25 bricks, each of which acts as its own individual microbial fuel cell (MFC) containing real microbes processing wastewater from a 50l tank.
The bricks are being developed as part of the €3.2m Living Architecture project co-ordinated by Newcastle University working with experts from the Universities of the West of England, Trento and Florence, the Spanish National Research Council; LIQUIFER Systems Group and EXPLORA.
Professor Ioannis Ieropoulos, Director of the Bristol Bioenergy Centre (BBiC), at the Bristol Robotics Laboratory at UWE Bristol, said: "It's quite clear, from hard scientific facts, that our planet and our environment are suffering the consequences of centuries of unsustainable practices. Technologies like MFCs, which benevolently exploit the ability of microbes to transform waste into electricity, are examples of alternative means we should be exploring and developing for wider societal use. Is this Tomorrow? is a wonderful forum where this can be showcased as part of innovative exhibits that provoke thinking and it's a pleasure to work with Cécile B. Evans and Rachel Armstrong."
As well as the microbes from MFC technology, the installation incorporates a curtain of fog and other traditionally uncooperative elements within a framework dictated by absurd units of measurement. This includes the 13sqm surface area deemed as the minimum "acceptable" space for human living and the 999 years designated as the maximum period of occupancy for land within the UK. The installation asks, what can be achieved in spite of, and beyond, the structures that attempt to rationalise or even contain humanity?
Is This Tomorrow? follows 60 years on from the gallery's seminal This is Tomorrow exhibition, one of the most influential exhibitions in Whitechapel Gallery's history. Held in 1956, it grouped British architects, painters and sculptors including Eduardo Paolozzi, Erno Goldfinger, Richard Hamilton, James Stirling and Alison and Peter Smithson who worked together to present installations. It is now widely considered a watershed of post-war British Art.
The artists and architects invited to participate in Is This Tomorrow? were born after the original exhibition took place. Expanding the vision of the original exhibition and reflecting changes of the intervening years, they are based around the world and reflect an equal gender balance.
Is This Tomorrow? runs at the Whitechapel Gallery from 14 February until 12 May 2019.
The Living Architecture project is funded by the Horizon 2020 Research and Innovation Programme under EU Grant Agreement no. 686585