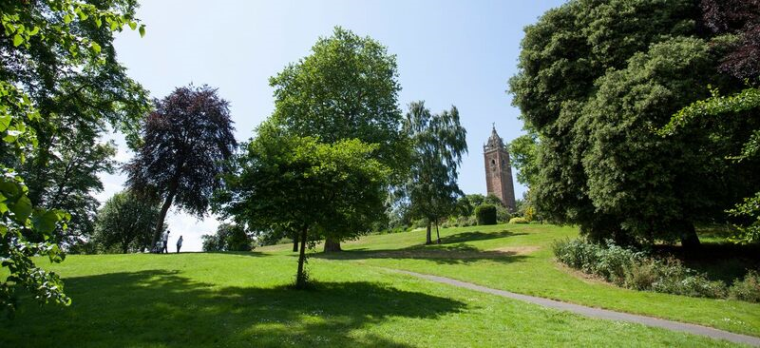 Academics from UWE Bristol will play a role in a new multi-million pound initiative to transform the future of the city's parks and green spaces.
The University's Centre for Public Health and Wellbeing is among six partners working with Bristol City Council on the ground-breaking Future Parks programme. The council fought off tough competition to be one of only eight places across the UK selected by the National Trust and The National Lottery Heritage Fund to take part.
It was chosen from more than 80 other projects submitted by councils and communities across the UK to receive a share of more than £6m of funding and £5m worth of advice and support from some of the country's leading experts in conservation, fundraising, volunteering and green space management.
In the first project of its kind in the UK, Future Parks is designed to help councils find sustainable ways to manage and fund parks and open spaces across entire towns and cities.
Last year, Bristol City Council submitted its plan to The National Lottery Heritage Fund and National Trust, focussing on a Future Parks Prospectus to attract new partnerships and investment to secure the long-term future of parks.
Over the next two years, three researchers from the Centre for Public Health and Wellbeing will lead on the spatial mapping of parks and public open spaces in Bristol to population health and demographic data. This will be used to develop a Health Promoting Parks and Public Spaces model to take forward ideas for innovation, investment and sustainable use of these spaces in the future.
An aim of the city council's One City Plan, a blueprint which sets out ambitious targets for the future of Bristol, decade by decade up to 2050, is for everyone to have access to excellent quality green space within a 10-minute walk from their home, by 2036. But the budget allocated to manage Bristol's parks and green space has fallen from £6 million in 2013 to £2 million today. The Bristol Parks Prospectus will deliver a comprehensive picture of all opportunities for partnership delivery for parks and green space across the city.
Professor Jane Powell, Director of the Centre for Public Health and Wellbeing, said: "We're thrilled to be bringing our academic research expertise to this important piece of work and to be playing a role in creating a brighter future for Bristol's much-loved parks and open spaces.
"As researchers addressing the biggest issues in public health, we recognise the significant contribution high-quality parks make to the physical and mental health of their local communities. We need a cultural shift around accessible green space, the role of business, voluntary groups and investment in innovation. Presently there is no clear route for new ideas and investment to come into our spaces to add value to the parks and public spaces development services in Bristol.
"This project fits well with our aim to impact directly on population health and wellbeing."
UWE Bristol's Dr Sanda Ismail, Senior Lecturer in Public Health, and Dr Rachael Marsh, a Specialty Registrar in Public Health, will work on the project alongside Professor Powell.
Other places which have been successful in the programme include: Birmingham, Bournemouth, Christchurch and Poole, Cambridgeshire, Edinburgh, Islington and Camden, Nottingham and Plymouth.
This latest announcement comes as the UK's parks face mounting financial pressure. A report from the Institute of Fiscal Studies last month showed that councils were spending less on services because of budget cuts and rising demand for social care, with leisure services such as parks and green spaces falling down the priority list.
Alongside the £5m from The National Lottery Heritage Fund, in February the Government announced it was handing the Future Parks project £1.2m from an overall £13m dedicated to green spaces.
Councillor Asher Craig, Bristol's Deputy Mayor with responsibility for parks and green spaces, said: "Bristol has great ambitions for our parks and green spaces, but as a council we recognise that we cannot realise these without working closely with our partners. In facing the challenge presented by budget cuts, we need to explore new ways to generate income to support parks.
"The opportunity is to find partners who can add value to the parks experience within a service which is free to use and of benefit to all."
Hilary McGrady, the National Trust's Director General, said: "Today is a landmark moment for the nation's urban parks. This is not just about new ways to fund and support these much-loved community spaces, but completely re-thinking the role green spaces play in our lives and how we can ensure they thrive for generations to come."