Researchers monitor autonomous bus user experience as UK's first zero emission service launches new route
See all news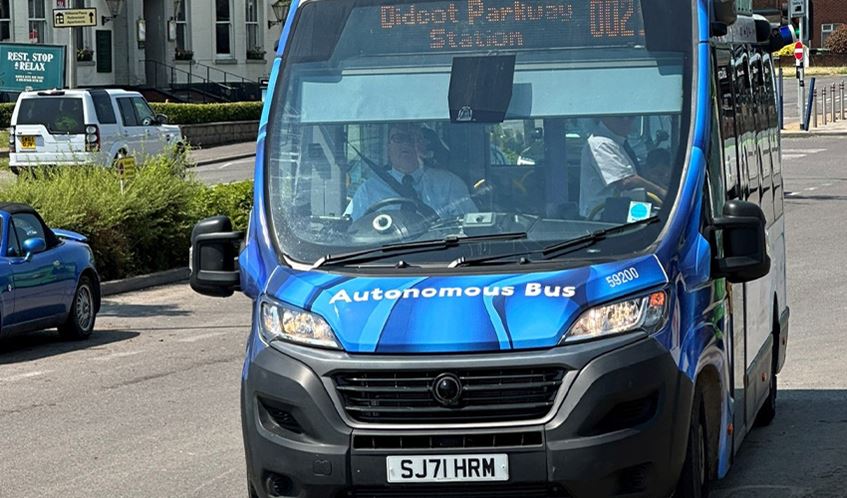 Travellers arriving at Didcot Parkway train station in Oxfordshire are able to use the UK's first zero emission autonomous bus on a new service from today (Monday 12 June), launched this week.
It is the only all-electric autonomous bus operating anywhere in the country and first began carrying passengers in March on a trial circular route within Milton Park, which is situated between Didcot and Abingdon.
The six-mile journey on the Mi-Link 002 from Didcot Parkway station will be available every 40 minutes to Milton Park, one of Europe's largest science and technology communities and home to 270 companies and 9,000 employees.
This ground-breaking, fully electric bus service is operated by First Bus. Its route to a key transport hub in the Didcot region has been extended after the successful introduction of the circular service around Milton Park.
The bus service is part of the Mi-Link green travel programme, a £4.3m project delivered by the 'MultiCAV' consortium led by First Bus and includes Fusion Processing Ltd, Oxfordshire County Council, University of the West of England (UWE Bristol) and Zipabout with Milton Park (as the host location) which has brought this ambitious five-year project to fruition.
The 15-seat fully accessible single-decker is fitted with Fusion Processing's CAVstar® Automated Drive System which includes a range of sensors including radar, LiDAR and AI to control steering, acceleration and braking without the need for human intervention.
A safety driver is on board at all times to provide a personalised service and information to passengers.
John Birtwistle, Head of Policy at First Bus and leading the MultiCAV consortium delivering the service, said: "We're continuing to lead the way in bringing not only a revolutionary and exciting bus travel experience to more people but delivering this with an innovative and green approach to the future of public transport.
"We're encouraged by the popularity of the autonomous bus service since it began operating and anticipate a similar reaction from customers travelling with us from Didcot Parkway. This embraces zero emission and digital technology to provide a smarter, cleaner and quieter way to travel.
"First Bus serves millions of customers in the UK and we know that so many take the bus because they care about our planet and reducing their carbon footprint. The Mi-Link 002 helps build on that ethos."
UWE Bristol, as the research partner, will study these new technologies applied to a real-world service, by conducting passenger surveys during the 40-minute journey.
Graham Parkhurst, Professor of Sustainable Mobility and Director of the Centre for Transport and Society at UWE Bristol, commented: "We're delighted to be part of this ambitious project and to have the chance to examine bus user experience on a varied urban route. We'll be studying the experiences of passengers and drivers of the bus as well as understanding the reactions of other users of Milton Park and will use these findings to help assess how public transport networks might change if autonomous technology is applied more widely."
Councillor Duncan Enright, Oxfordshire County Council's Cabinet Member for Travel and Development Strategy, said: "Oxfordshire is at the forefront of the developments in autonomous vehicles and we, as a council, are proud to be a partner. Innovation like this has an important role to play in helping us achieve our goal of creating a zero-carbon transport network by 2040."
For more information on the service please visit the Mi-Link website.
You may also be interested in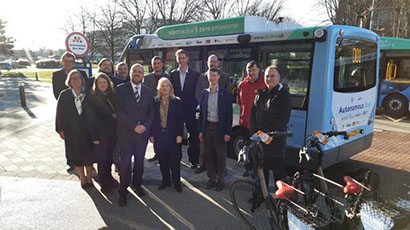 News
24 January 2023
The UK's first-ever zero emission autonomous bus service reached a key milestone with trials starting on public roads in Oxfordshire on Monday 23 January 2023.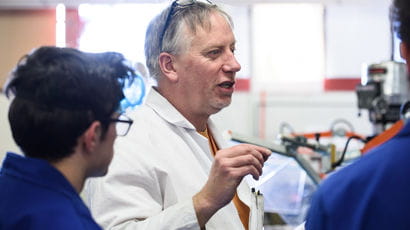 Media contacts are invited to check out the vast range of subjects where UWE Bristol can offer up expert commentary.