Public art globe created by former UWE Bristol student installed at Bower Ashton campus
See all news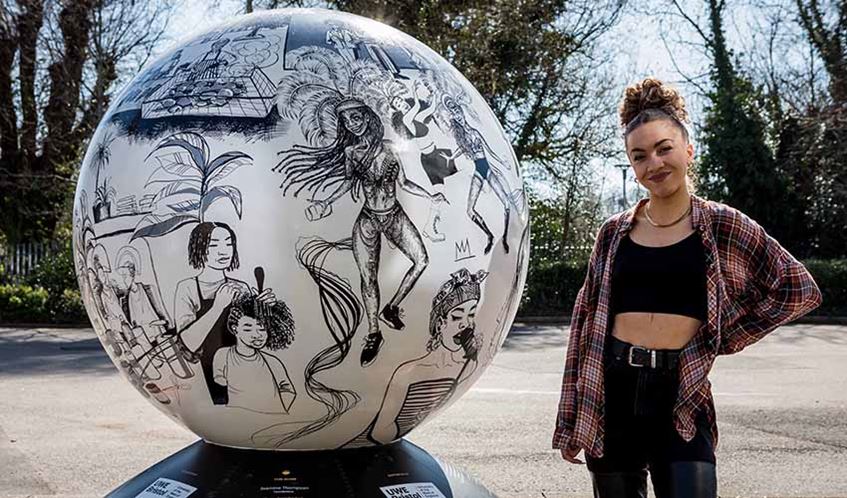 A piece of public art created by former UWE Bristol illustration student Jazz Thompson has been installed at City Campus Bower Ashton.
The globe, entitled 'Foundations', was originally designed as part of The World Reimagined sculpture trail that was visible across Bristol last summer.
Jazz's design brief was to explore the theme of 'Expanding Soul' which celebrates the spirit and culture of the African diaspora that, even in the face of incredible suffering, has endured and found vibrant expression across the world in music, art, food and more.
Jazz said: "I used the opportunity to pull out carnival, celebration, food and music to convey energy and life. Music is a huge part of black and Caribbean culture, and it's also hugely rooted in the city. I approached the project with quite a positive lens."
The illustrations on the globe include people, cityscapes, sound systems and hairdressing.
"I've put in a lot to do with hairdressing as I love how it brings people together," Jazz said. One of the illustrations was inspired by a photograph of Jazz's grandfather doing her cousin's hair many years ago.
The piece, which is situated at one of the main entrances to Bower Ashton Campus, will be seen by students and staff every day.
Jazz said: "I hope the globe being here shows students, especially those from marginalised backgrounds and students of colour, that you can pursue a career in illustration and the arts; that you can freelance, and do fun, vibrant, creative projects with your talents. There's definitely imbalances in representation in the arts, so for me this starts to show that it can be shifted."