Panel discussion explores how Bristol Nightingale Hospital was built in under three weeks
See all news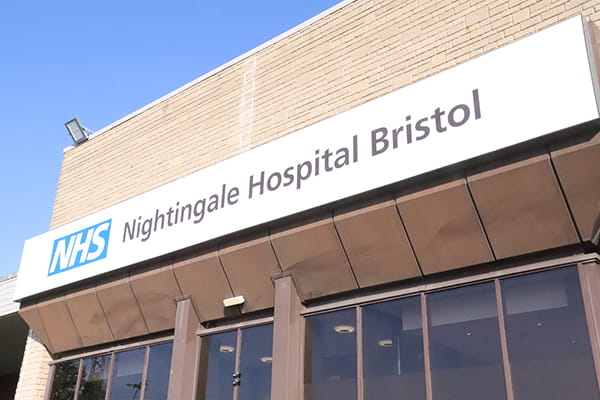 A panel discussion on Bristol's Nightingale Hospital and how it responded to a national crisis is to take place on Wednesday 14 October. Members of the public can tune in virtually to view the event. The panel is to be made up of Vice-Chancellor Steve West as well as senior members of the NHS and construction and infrastructure firm Kier.
The round table discussion will explore what building the hospital involved and is to highlight the dedication, hard work and agile response from all involved and how this was central to the construction project's successful completion in such a short time. It is to include the following panel members:
Professor Steve West CBE, Vice-Chancellor, President and Chief Executive Officer
Marie-Noelle Orzel, Chief Officer, NHS Nightingale Hospital Bristol
Tim Whittlestone, Chief Medical Officer, NHS Nightingale Hospital Bristol
David Snell, Operations Director, Kier
NHS Nightingale Hospital Bristol, which is in the University's Exhibition and Conference Centre (ECC) on Frenchay campus, was a collaborative project across a wide range of organisations and companies. It required a highly-effective team effort involving UWE Bristol staff, the Army, the NHS and the contractors, Kier, who often worked 12 hours a day.
After only 20 days work, the temporary hospital was opened in April after the ECC was converted into a 300-bed medical facility to provide extra beds if local services needed them. The hospital was seen as vital in helping support NHS efforts with the COVID-19 pandemic and supporting the local community and wider region at an exceptionally challenging time.
After going into stand-by mode at the end of June, the Bristol Nightingale hospital is now being set up as 'winter ready.' Initially the lecture theatre in the hospital is to be used for storage so that equipment and stores can be safely moved inside from the temporary marquees outside the hospital as we head into autumn.
Professor Steve West, Vice-Chancellor of UWE Bristol, said: "Although we hoped it would never be required, the fact that we have been host to such an important part of the UK's fight against Covid-19 is a source of great pride to our staff and students. The NHS have our full support for this next phase, and we will continue to work very closely with NHS colleagues across the region to determine how the facility will change and adapt for any future use."
Those interested in watching the panel discussion on Wednesday 14 October must first register via the UWE website. From 18:25 they can then join the talk online, which takes place from 18:30–20:00 and will include a Q and A session.