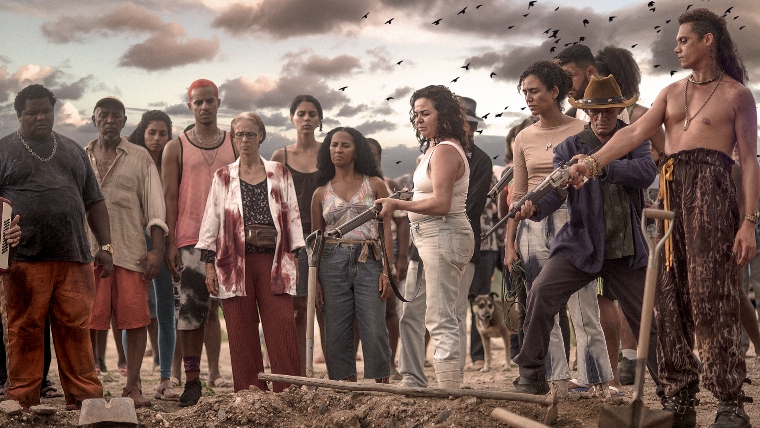 On Thursday 25 February 2021 Watershed is launching a series of free online panel discussions called Conversations About Cinema: Thought in Action – a new partnership with the Philosophy, Politics and International Relations departments at UWE Bristol, and curated film streaming service, MUBI.
Twice a month invited experts will be available to discuss a film on MUBI, which, for this series, are focused on the theme of colonialism.
The first online panel discussions will be analysing Gillo Pontecorvo's 'The Battle of Algiers', thought to be one of the most influential political films in history. Participants are invited to watch the film at their leisure ahead of the conversation on 25 February. The panel will be chaired by Francesco Tava, Senior Lecturer in Philosophy at UWE Bristol and include historian Julieta Chinchilla, University of Buenos Aires, who specialises in anti-colonial struggles in Northern African history, and Lucia Salas, a film critic, curator and filmmaker currently based in Spain.
"The five films which have been selected for this series revolve around one overarching topic – colonialism," said Francesco Tava, Senior Lecturer in Philosophy at UWE Bristol. "We wanted to find a way to continue a great experience of intellectual exchange and collaboration, providing a safe space where people can gather and discuss films together, rather than simply watching them in the solitude of their homes.
"We also want to propose a model of partnership between universities, independent cinemas, and visionary streaming platforms that we hope can become a model for future enterprises."
Chiara Marañón, Director of Content at MUBI said: "We are so pleased to be a part of an initiative that forges bonds between film exhibition, streaming and education. By offering access to MUBI's collection of hand-picked films as a resource, we anticipate exciting curation, and encourage critical engagement with cinema from students all over the world with our new student membership."
Mark Cosgrove, Cinema Curator at Watershed said: "I have worked separately with MUBI and UWE Bristol in the past to engage audiences in different aspects of film. If one positive thing has come out of this pandemic for me, then it is being able to bring these two passionate partners together with Watershed to offer audiences unique access to insights and debates flowing from MUBI's rich catalogue of film culture."
The 'Conversations About Cinema: Thought in Action' series aims to foster deeper conversation about issues and ideas arising in film. This first series on colonialism will comprise the following (please note the speakers for the full series will be confirmed shortly):
Thursday 25 February: Discussing the Battle of Algiers by Gillo Pontecorvo
Thursday 11 March: Discussing Ghare-Baire (The Home and the World) by Satyajit Ray
Thursday 25 March: Discussing Zombi Child by Bertrand Bonello
Thursday 15 April: Discussing Apiyemiyeki? By Ana Vaz
Thursday 29 April: Discussing Bacurau with the filmmakers; Juliano Dornelles and Kleber Mendonça Filho
The related discussions are all free and open to the public and will take place on Zoom. To take part people will need to book their ticket in advance via the Watershed website as spaces are limited. The information on how to log on and join the discussion are emailed a couple of days before the event.