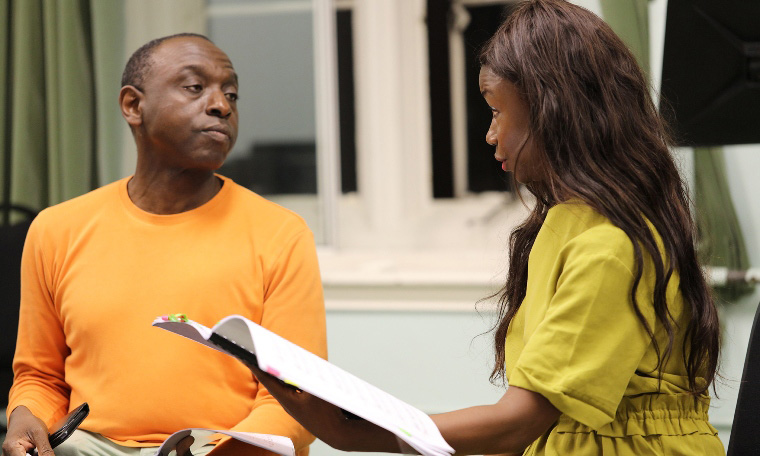 The opera, King Solomon and the Queen of Sheba, is coming to Bath Guildhall on 17 July as part of UWE Bristol's Freedom in the City Festival which celebrates the city's connection to Ethiopian Emperor Haile Selassie.
Influenced by African musical genres and opera from across the continent and the African diaspora, King Solomon and the Queen of Sheba explores the Ethiopian legend of the first Emperor of the Solomonic Dynasty as told by two female Rastafari devotees. The opera was created by acclaimed composer and singer, Juwon Ogungbe, and first performed in Theatre Peckham in 2019. Featuring an ensemble of classical singers from diverse heritages, the performance at Bath Guildhall will be just the second time that the opera has appeared on stage in front of a live audience.
The performance is part of Freedom in the City, Festival of Learning; a seven-month-long series of online and in-person events across Bath exploring Ethiopian and Rastafari culture. Set up by UWE Bristol Associate Professor, Dr Shawn Sobers, the festival seeks to celebrate cultural inclusivity in the city and explore the history and impact of Emperor Haile Selassie during his time in Bath.
The festival is funded by the Arts and Humanities Research Council as part of their EDI Engagement Fellowships which supports researchers whose work focuses on equality, diversity and inclusion. All events, including the opera, are free and open to the public.
Opera Director, Juwon Ogungbe, said: "On a visit to Ethiopia several years ago, I visited their National Gallery. I became really inspired by the exhibit of the Queen of Sheba's compound. After hearing her story, the seduction by King Solomon and the birth of their son, I wanted to retell this legend that has so much importance and symbolic value in African history. I'm really excited to present this piece for the first time since the pandemic began, with some brilliant and diverse creatives. Sharing the story with Bath is of special significance because Emperor Haile Selassie, a direct descendant of the Solomonic Dynasty, once lived in the city."
The opera takes place at 7pm on 17 July at Bath Guildhall. The performance will be followed by a question and answer session (Q & A) with the cast and production team. A filming of the opera and the Q & A will also be available to view online on Saturday 31 July from 6.30pm. To book your free ticket visit freedominthecity.org.
This production of King Solomon and the Queen of Sheba is funded by the Arts and Humanities Research Council, supported by University of the West of England and Fairfield House, Bath.
Image credit: Jacqueline Ennis-Cole