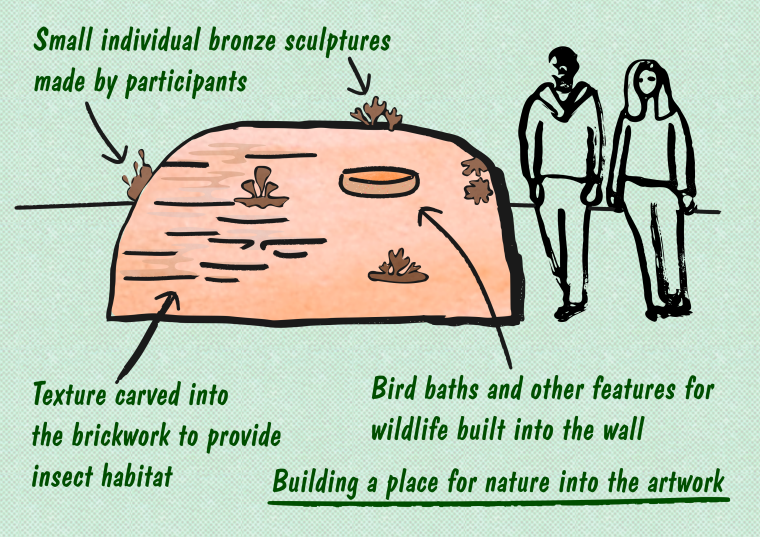 The next stage of a project to create a public artwork for UWE Bristol's Frenchay campus gets underway in April with a series of free Makers Workshops.
The events will be held in the new Making Space located in S block and will allow students staff and members of the local community to get involved with the construction of the permanent outdoor sculpture garden located in the grounds of the new student accommodation development.
The Makers Workshops will be held on:
Tuesday 4 April 14:00–15:30
Tuesday 18 April event TBC
Thursday 20 April 16:30–18:00
Tuesday 25 April 16:30–18:00
Thursday 27 April 12:30–13:30
Thursday 11 May 16:30–18:00
Tuesday 16 May 14:00–15:30
Thursday 18 May 16:30–18:00
The first set of workshops will involve working with clay to create large scale sculptures that will be cast in bronze.
The second set will focus on carving brick clay, which will be fired to create large ceramic sculptures.
All are welcome and no previous art experience is necessary. To book and for further information visit Juneau Projects - Bryophyte Club.
These free events are the latest in a series of creative workshops held by Juneau Projects (Phil Duckworth and Ben Sadler) working with Arnolfini. They have been running the Bryophyte Club sessions to gather ideas for sculptural forms inspired by mosses bryophytes and liverworts, the often-overlooked plants that are so vital to ecosystems.
Playing with clay watercolour and laser-cut wood, the models made by the students staff and members of the local community have directly inspired the final designs for the sculpture garden, which will create an area for the local community to enjoy.
William Liew Chief Financial Officer at UWE Bristol said: "We're delighted so many people have shown an interest in this initiative, which we hope will provide a long-term benefit to both the local community as well as future students in years to come."