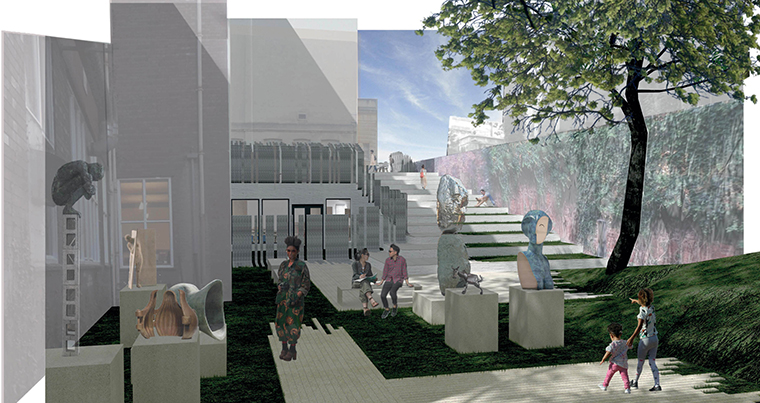 Students from UWE Bristol have worked in partnership with one of the city's leading art galleries to draw up designs for its possible redevelopment.
Seeking inspiration from the next generation of designers, the Royal West of England Academy (RWA) invited interior architecture students to study the building and imagine how it might be adapted to best serve future visitors.
Students' designs – which form part of their final year degree project – have now gone on display in the venue in an exhibition entitled Re-Imagining the RWA.
The collaboration comes as the RWA considers submitting a bid to the National Lottery Heritage Fund for improvements.
UWE Bristol's 19 students submitted designs to extend and redevelop the RWA, taking full advantage of the site to make it even more welcoming and accessible. Ideas include everything from modest adjustments to the Grade II* listed building to more radical transformations, including the addition of new pavilions to create space to display new kinds of art such as video and virtual reality exhibits.
Senior lecturer for BA Interior Architecture at UWE Bristol, David Littlefield said: "It's a pleasure working with this important cultural institution in Bristol, and we are especially pleased that the gallery is able to put our students' work on public display."
Alison Bevan, Director of the RWA, said: "We're delighted to have had access to the outstanding creative minds of UWE Bristol's interior architecture course. This collaboration has given us some fantastic ideas for ways we can re-imagine the space to help us deliver our commitment to bring great art to everyone, and promote the understanding and enjoyment of art to a wider audience."
The exhibition will run until 7 April and entry is free.