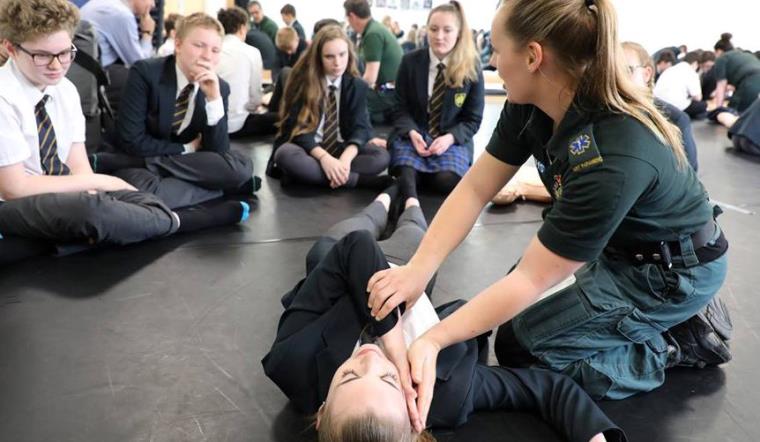 An initiative which sees UWE Bristol students teach vital life-saving skills to local school pupils has now trained more than 3,000 young people.
Great Western Heartstarters, a partnership between UWE Bristol and Great Western Air Ambulance Charity (GWAAC), was launched three years ago to ensure children are equipped with the knowledge and skills needed in a medical emergency.
The three-year anniversary of the programme was celebrated on Wednesday, World Restart a Heart Day, with a fundraising CPR-A-Thon event at the University's Glenside campus. UWE Bristol students took it in turns to practise chest compressions on a mannequin continuously between 7am and 7pm. Training was also given to University staff and students as part of the day.
Medical professionals including doctors, paramedics, nurses and UWE Bristol nursing and allied health professions students team up with the GWAAC Critical Care Team to deliver Heartstarters training in cardiopulmonary resuscitation (CPR) and automated external defibrillation (AED) in secondary schools.
More than 120 UWE students have been involved in the Great Western Heartstarters scheme and the programme has recently expanded from Bristol to cover schools in South Gloucestershire and Gloucestershire. Student volunteers work with professionals from GWAAC, giving talks and demonstrations. The school pupils are given the chance to practice basic life-saving skills on specially adapted mannequins.
UWE Bristol organiser Mandy Bancroft said: "This is a great initiative that allows school pupils to develop life-saving skills and offers our students a chance to develop their teaching and leadership skills, helping to prepare them for their future careers in healthcare. The scheme has grown over the three years and has seen 3,000 young people trained up in CPR in Bristol. It is great to see that CPR will become mandatory in schools by 2020, as the evidence of bystander CPR in improving outcomes is unequivocal."
In the summer, a dedicated student society was formed to drive the Heartstarters initiative forward among UWE Bristol's students and staff.
UWE Bristol student Jamie Hulley-Mills, who runs the society, said: "By making Heartstarters core to a student society on campus, we have been able to dedicate more time to raising awareness of the initiative among students and staff. Since launching the society in June, we've recruited over 60 new Great Western Heartstarters, which is an amazing achievement. As a result, the society was able to organise the CPR-A-Thon, which raised vital funds for GWAAC and offered students the chance to earn specialist certificates they can use in their future careers."
Anna Perry, Chief Executive of GWAAC, said: "It's fantastic to have such a close partnership with UWE Bristol's staff and students. Our volunteer Heartstarters really contribute to saving lives in our region. We know that if there is someone nearby who can perform CPR until GWAAC's Critical Care Team can get there, then the patient will experience a better outcome. We're always looking for more medically trained volunteers to become Heartstarters, and more schools looking to train their pupils in this life-saving skill."
David Howe, head teacher at Abbeywood Community School in Stoke Gifford, said of a recent Heartstarters training session: "The students really enjoyed the session as it was very practical with small groups, so students were fully involved all the time and the staff made it really fun too. The students felt confident in saving somebody's life because they had so much practice in the session."