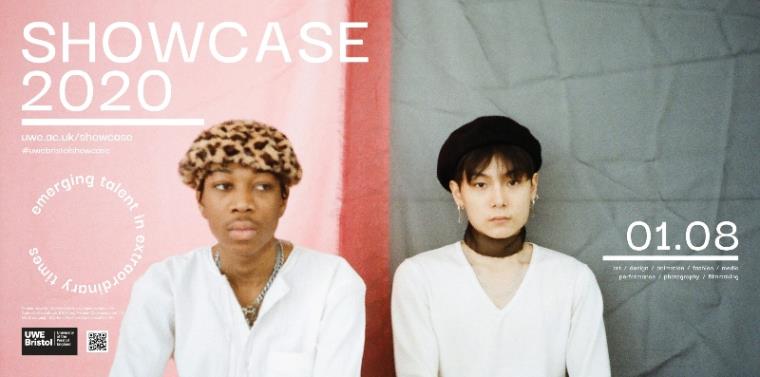 The artwork of young creatives has been brought to the streets of Bristol in a new campaign launched by UWE Bristol.
The work of this year's graduates from UWE Bristol's creative arts programmes are being shared and celebrated in a series of billboards and posters across Bristol throughout most of August, featuring in central locations such as Temple Meads and Harbourside as well as residential areas like Southville, Old Market, Stokes Croft and St. Pauls.
From illustration and graphic design to photography and fine art, the poster campaign reflects the diversity of practice at UWE Bristol and spotlights some of the city's up and coming creatives.
Audiences are invited to engage further with artworks on offer from UWE Bristol via the university's first digital showcase which launched on 1 August. Showcase 2020 was developed in response to the COVID-19 pandemic which forced a number of physical events, including the university's annual Degree Show, to be postponed. It exhibits the work of graduating students reflecting the creative diversity from programmes across art, design, animation, photography and moving images.
Head of School of Art & Design at UWE Bristol, Jacqueline Butler, said: ''Our students and recent graduates have demonstrated exceptional resilience over the last few months, and the fruits of their creative labour deserve to be seen - and celebrated.
''Audiences from across the world will now be able to view and engage with the high calibre of UWE Bristol's creative talent through Showcase 2020, helping to launch the professional careers of our graduating students. Meanwhile, our poster campaign provides a physical presence: bringing our graduates' creative work to the streets of Bristol.''
One of the artists featured in both the posters and Showcase 2020 is Olumide Osinoiki. Despite only graduating this summer, Olumide has already carved out a successful career as a freelance photographer. His clients include the Guardian and the BBC and he is currently working on a popular television show.
Speaking of his time at UWE Bristol, Olumide said: ''It wasn't just about passing exams or completing a course. My lecturers, who became my friends and mentors, helped me to develop myself as an artist and showed me how to create a career for myself. To have my work shown across Bristol and in the Showcase is really humbling and I'm grateful to the lecturers who helped me become the photographer I am today.''
Another graduate featured is Annie Wright whose bold and graphic illustrations are inspired by sports, nature and the outdoors. Her illustration 'Swimming' is featured in the poster campaign and is part of a set of three commissioned illustrations inspired by the three disciplines involved in a triathlon. She said: ''I feel excited that my work is being displayed around the city that I have studied in and loved for the past three years. I hope people will be inspired and will want to discover more of my work and that of other UWE Bristol students via Showcase 2020.''
Other highlights from graduating students from the creative arts include a recent exhibition at the prestigious Hauser & Wirth Gallery in Somerset. Fine Art graduate, Lauren Horrell, was selected to show her collection of wall-hanging sculptures during the five-day exhibition (29 July – 2 August). Lauren uses scrap fabrics and second-hand clothing to create her sculptures, provoking discussion around fast fashion and consumerism. She said: ''I hope that when audiences see my work, they start to consider the amount of clothing they consume and everyday purchases that they make.''
Visit showcase.uwe.ac.uk to find out more.