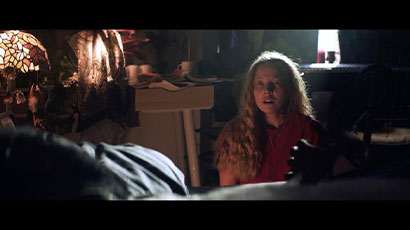 A film made by Elias Williams, a director and graduate from the University of the West of England (UWE Bristol), has been selected for the internationally regarded London Short Film Festival (LSFF) next year.
Voodoo In My Heart is a stylish horror short that explores Haitian culture via a modern love story: a young woman has been bitten by her zombie boyfriend. Can she find help from an expert – before it's too late?
Elias graduated from UWE Bristol in 2018 with a First-Class Honours degree in BA Filmmaking; he teamed up with former course mate Lowri Roberts, who produced the film, which has already been featured as one to watch on Drama Shorts: BBC Introducing Arts on BBC4.
Elias said: "I'm really grateful that Voodoo in My Heart has been selected for LSFF - it's a great festival that gives emerging filmmakers some really important exposure. It feels like a big win for the team as I couldn't have made the film without the support of the talented crew. It was really nice to be reunited with producer Lowri Roberts who was on the UWE filmmaking course, too."
Voodoo In My Heart will be aired at the London Short Film Festival, which is a BAFTA-qualifying independent festival, between 4 to 23 January 2022.
Meanwhile, Elias is working alongside his brother Timon, who is also a UWE Bristol BA Filmmaking graduate; together they have founded mandemhood.com. Their work for mandemhood.com includes providing a space for young men of colour to express themselves through writing, film and music, and has also included hosting panel-led discussions about topical issues around race, class and gender.
Elias and Timon have recently completed their first feature film 'Last Summer in Oxford' which has just been released on Amazon.
Timon added: "It's a great feeling to have our first feature out in the world and I can genuinely say that it wouldn't have been possible to make the film without the skills gained on the filmmaking course at UWE. The combination of great teaching and incredible facilities made me feel equipped to make films independently after graduating, and yet I know that I can always contact the UWE staff for support if I need to."