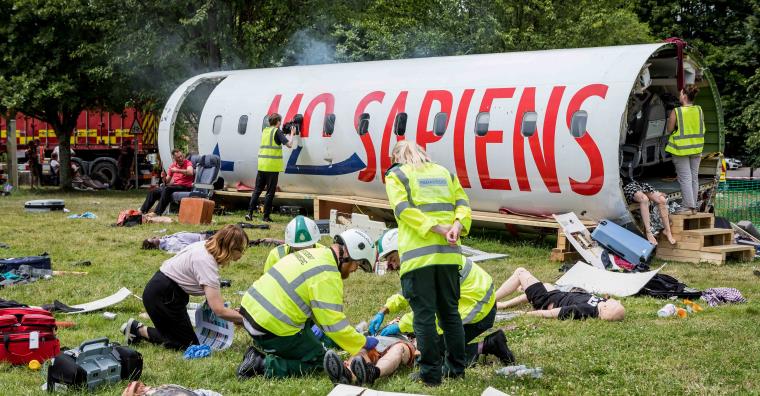 A commercial airliner disaster was the scenario for a major incident training exercise for students at Glenside Campus.
In one of the most ambitious simulation exercises hosted by UWE Bristol to date, a section of a Boeing 747 aircraft was transported onto campus and a crash site wreckage was staged.
Paramedic science students were tasked with working alongside external emergency services professionals to respond to the incident, with actors playing the role of injured passengers.
The exercise, which ran between Wednesday and Friday following nine months of planning work, was supported by staff from external agencies including Avon & Somerset Police, Avon Fire & Rescue Service and South Western Ambulance Service.
Students were expected to triage and treat casualties at the scene and then convey them by ambulance to a simulated major trauma centre, where they were treated by adult nursing and physician associate students.
Forensic science students took part in the final aspect of the simulation on Friday, collecting evidence from the scene for an investigation into the incident. Some students who participated in the training exercise will be called to give evidence in a simulated public enquiry into the disaster on 30 June at Bristol Law School on Frenchay Campus.
The action was captured by UWE Bristol filmmaking students, while drama students were also involved in the simulation. Over three days, 505 individuals took part in the exercise.
Senior Lecturer in Paramedic Science and Event Director Jon Newton said: "Whilst major incident simulation is widely utilised in paramedic education, this event is representative of a pioneering approach to teaching and learning, and is one of the first 'high-fidelity' simulation exercises a UK university has run with such a strong focus on developing interprofessional practice.
"The exercise allowed students to put what they have learned to the test, and practice the concepts of mass-casualty triage and the principles of disaster scene management. As a near real-life scenario, it will have given the students better emotional preparedness for situations they might encounter in their future careers.
"I would like to say a big thank you to all students, staff and external agency colleagues involved for ensuring it was a successful and authentic simulation."