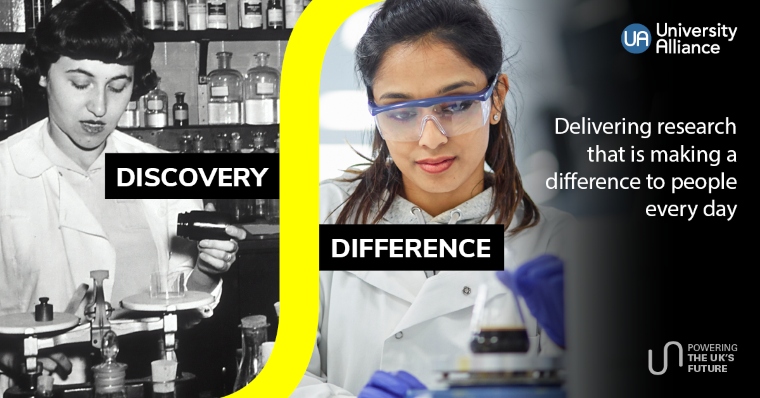 The 12 universities that make up the University Alliance group will help power a national economic, social and cultural recovery from COVID-19, according to a new campaign launched today.
These universities, which include UWE Bristol, will deliver the skills, ideas and innovations needed to generate the pillars of growth for an economic recovery that will see communities across the country thrive once again, the campaign 'Powering the UK's Future' says.
Calling for higher education to be positioned and funded as a major asset for the nation's recovery, University Alliance have released a set of high-level policy asks which if enacted will enhance universities' contribution to the national economic, social and cultural recovery.
The Alliance's 12 universities train almost a quarter of the nation's nurses, support almost 24,000 businesses with consultancy, facilities and research, and have been awarded more than £68m to spend on regenerating their local communities, alongside their own significant investments.
As the UK economy grapples with recession, today's campaign highlights how Alliance universities will use their critical role within the NHS and public services, support for businesses, locally-rooted research and innovation, and partnership with industry to find solutions to the economic and social challenges we all face and support the government's investment pillars of growth.
Already they are finding new treatments to tackle obesity, creating new training routes for police officers, supporting SMEs to develop new technologies, developing green innovations, redesigning a struggling high street, and working with TV companies to produce new programmes.
At UWE Bristol, researchers are collaborating with smart engineering solutions company Costain and engineering technology start-up Enable My Team to develop a system that predicts faults on train tracks and in stations. Using thousands of sensors and 3D modelling, the technology will enable companies to fix a structural problem before it even becomes one, and at a time when commuting is not disrupted.
The Powering the UK's Future campaign has been backed by major employers and industry partners, including the International Chamber of Commerce, along with support from numerous SMEs and local organisations who work with Alliance universities to deliver change for their communities.
Caron Ricciardi, Senior Business Development Manager at Lloyds Banking Group said:
''Lloyds Banking Group has built a robust relationship with UWE Bristol, engaging with lecturers and course leaders to deliver sessions to students studying their banking and finance programme. By working together, universities and employers are able to bridge the gap between academia and industry, providing young people with a great start to their working life and equipping them with the skills and experience they need thrive. This not only helps individuals to realise their aspirations but helps UK businesses and society to prosper.''
University Alliance Chair and Vice-Chancellor of the University of Brighton, Professor Debra Humphris said:
"Alliance universities are deeply rooted in their surrounding regions, with a heritage stretching back hundreds of years and a mission to support local people and communities that continues today. Alliance universities are helping to build the economy and workforce of the future with their leading research and close links with business, and are powering the public services we all rely on.
"This campaign highlights just some of the ways in which Alliance universities can draw on their practical strengths to support the national economic, social and cultural recovery effort in the months and years ahead. As the country looks to build back from this crisis, Alliance universities stand ready to support our communities and national renewal, and have the local connections, the expertise, the partnerships and the public support needed to power the country's future."
Vice-Chancellor of UWE Bristol, Professor Steve West, said:
''We are proud to support this campaign which highlights the important contribution of universities and provides a snapshot of the work we do every day. As we look to the future, universities like UWE Bristol stand ready to support our communities and use our local roots, expertise, and partnerships to power a social, cultural and economic recovery from this crisis."
University Alliance CEO Vanessa Wilson said:
"As a mission group we are committed to working together, to unlock potential in order to effect change, and this has never been more important for the UK than now. I am proud that through launching this campaign we are demonstrating our potential and readiness as a collective group of universities to power a national renewal and recovery which we all strive for as we look to rebuild from Covid-19 and beyond.
"With their closeness to industry, entrepreneurial spirit and commitment to levelling-up, Alliance universities are well placed to support national pillars of growth in innovation, infrastructure and skills. The success of this role will be dependent on the Government's policy approach and we look forward to working with them to harness the potential and power of our institutions and institutions like us to support their plan for national growth and renewal."