Driving simulator facilities
Ready to take it up a gear? If you dream of working in the world of motorsport and automotive design, our driving simulator will take your breath away – and get you dream-job ready. Here you can trial your designs using the very latest industry-leading simulation technology.
What's waiting for you?
A truly immersive driving experience
The motorsport and automotive sector is increasingly reliant on simulation for driver training and vehicle research and development. So if you want to enter the industry, you need to learn to use simulation tools. And our driving simulator is second to none.
Realistically mimics real driving in potentially any kind of car, existing or newly designed.
Uses the carbon fibre chassis from a former Formula 1 racing car.
180 degree wrap around screen – in a specially equipped room to create a truly immersive experience.
What can you do in the driving simulator?
Test vehicle dynamics.
Investigate changing mechanical parameters to check performance and handling.
See how designs perform in different terrains and weather conditions.
Did you know? The simulator facility is also used in the design and development of sustainable transport, simulating of electric vehicles and hybrids, and performing emissions analysis.
Work-ready graduates
If you join us to study the MEng Automotive Engineering, BEng(Hons) Automotive Engineering, or Mechanical Engineering, the hands-on experience this simulator provides will make your CV stand out – it matches technology used in industry, giving you a great advantage when it comes to securing employment.
Find out more about the Department of Engineering, Design and Mathematics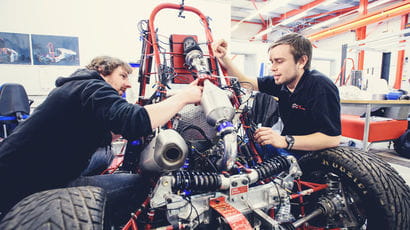 Our courses include: Mechanical Engineering, Engineering, Electronics, Robotics, Aerospace Engineering, Civil and Environmental Engineering, Mechatronics and more.