Inspire:Me Lecture Series with Rema Mukena
Talk summary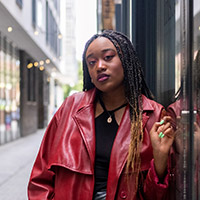 This lecture was delivered by Rema Mukena, a multi-faceted creative, presenter, award winning journalist and artist. The talk is called "Getting the bag".
In this lecture, Rema Mukena guides you through her journey - from completing her university degree to landing an absolute dream of a job. She teaches the audience how to eliminate self-doubt and any confusion they might be feeling about their path. She explains how upon completion of her degree, she has come for every single bag possible and will continue to do so, whilst simultaneously teaching you how to do the same. Rema stresses there are absolutely no limits to what you can achieve and to what you can do. Comparison is a killer, so don't look at what Michelle's doing, don't look at what Tom's doing, don't look at what Charlotte's doing - look at what YOU are doing!
Watch Rema's talk
Rema Mukena, Assistant Producer for BBC Audio and Radio Presenter on Reprezent Radio delivers a lecture called Getting the bag.