Inspire:Me Lecture Series with Jade Parnell
Talk summary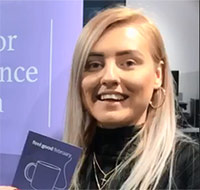 This lecture was delivered by Jade Parnell, PhD student at UWE Bristol's Centre for Appearance Research (CAR). She gave a talk called "What it means to be a Body Image Researcher".
Jade discussed her journey of becoming a body image researcher and why research into body image is so important in our society.
You can follow Jade on Twitter or listen to the Appearance Matters podcast on SoundCloud.