Rob Law MBE - 27 September 2017
Rob Law MBE, Chief Executive of Trunki, delivered a Bristol Distinguished Address Series lecture entitled "Building a global brand".
Building a global brand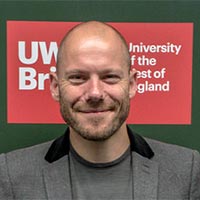 Rob Law MBE, Chief Executive of the popular children's travel product Trunki talked about his inspiring journey 'Building a Global Brand'. He discussed the strategies that have worked for growing his business including the re-shoring project which moved the manufacturing of the product back to the UK.
Rob showed great determination and passion as he talked about the multiple challenges and obstacles Trunki have faced such as dealing with many counterfeit products, the ban on hand luggage and Supreme Court battles for design copy.
Rob explains the importance of a business focussing on one goal, having a clear vision that the whole company can also be on board with and not getting side-tracked by too many opportunities.
Continuous innovation is also a core value of Trunki, not only with new products but how it's important to encourage all employees to think differently and challenge what may be considered the normal way of doing things.
Rob finished his talk by encouraging people to shorten the supply chain by manufacturing in the UK not only for environmental benefits but also to benefit the business, and discussing Trunki's plans for the future.
Podcast
Listen to Rob Law's talk.
Exclusive pre-address interview
Watch Rob's pre-address interview below. You can find a transcript of this interview on the Business West website.