Paul Geddes - 8 February 2017
Paul Geddes, Chief Executive of Direct Line Group, delivered a Bristol Distinguished Address Series lecture entitled "The future of brands in a post-truth world".
The future of brands in a post-truth world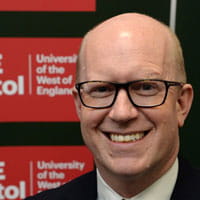 Showcasing his extensive experience working for well recognised brands, Paul Geddes explained his reasoning behind the future of brands, believing branding lines up with Maslow's Hierarchy of Needs.
He described why brands existed; by keeping us safe (by knowing what we are going to get), ensuring good quality, helping us fit in and making us feel good about ourselves.
Paul explained that every brand should meet the three Cs to survive in today's business: to be Competent at what they do, to be Convenient, and to Connect with the customer.
Podcast
Listen to Paul Geddes's talk.
Exclusive pre-address interview
Watch Paul's pre-address interview below. You can also find a transcript of this interview on the Business West website.