Lisa Opie, Managing Director of BBC Studios UK Production - 11 March 2020
Lisa Opie, Managing Director of BBC Studios UK Production delivered a Bristol Distinguished Address Series lecture entitled "TV as a force for good".
TV as a force for good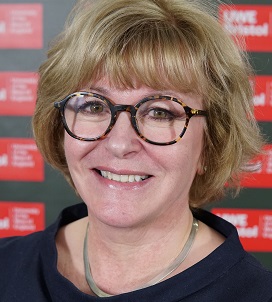 People, communities and societies around the world need stories brilliantly told, this is what Lisa told the audience is BBC Studios' greatest strength - their ability to tell stories that matter, that denoted quality, credibility, truth and innovation.
Lisa's interesting talk looked at the key role television plays in raising awareness of important issues, bringing communities together and changing the world for the better.
Lisa spoke about how supporting audiences and communities around the UK is inherent in the BBC 's values, giving examples of how they do this with programmes such as 'DIY SOS' which offers help to families with the greatest need and how this has impacted communities nationally.
Lisa also addressed diversity in the television production industry and discussed what the BBC are doing to improve representation on screen, as well as in the stories they tell, to better reflect their audiences.
Lisa drew on programmes such as Blue Planet ll to demonstrate the power television has to drive positive change, locally, nationally and internationally – following this programme it is said that 88% viewers changed their approach to using plastics and countries around the world pledged to reduce their plastic usage. She explained that programmes such as this which raise awareness of increasingly global issues, such as the plastic pollution in the oceans, change people's perspectives and behaviours and therefore serve as 'a force for good'.
Podcast (with slides)
Listen to Lisa's talk alongside her presentation.
Exclusive pre-address interview
Watch Lisa's pre-address interview below. You can read a transcript of this interview on the Business West website.