Lady Barbara Judge CBE - 9 November 2016
Lady Barbara Judge CBE delivered a Bristol Distinguished Address Series lecture entitled "The future of nuclear".
The Future of Nuclear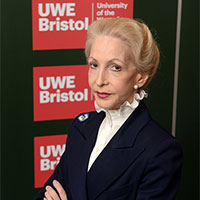 Lady Barbara Judge CBE, Chair, Institute of Directors and Deputy Chairman of the Nuclear Reform Monitoring Committee, delivered a lecture as part of the Bristol Distinguished Address Series.
Lady Barbara spoke passionately about nuclear, outlining a brief history including why nuclear is an unpopular option and how it has come back onto the government agenda. Lady Barbara reviewed the current state of play when it comes to nuclear power, and the issues governments face when deciding to build new power plants.
Lady Barbara surmised that Nuclear is not "the solution but it is part of the solution" and that we need a "bouquet of energy sources."
Exclusive pre-address interview
Watch Lady Barbara's pre-address interview below.