Karen Blackett OBE - 6 December 2017
Karen Blackett OBE, Chairwoman of MediaCom UK, delivered a Bristol Distinguished Address Series lecture entitled "Unlocking and understanding the UK consumer".
Unlocking and understanding the UK consumer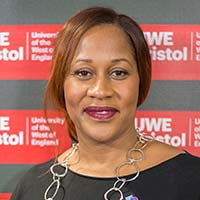 For the final address of the Autumn series, Karen gave a fascinating and motivating talk looking at how the modern day UK consumer now views marketing.
Karen highlighted that "consumers just aren't interested in advertising anymore" with over 70% of adults trying to skip adverts. Advertisements need to be relevant, interesting and reflect a consumer's life to attract a consumer attention, she explained, using the example of the personalised Coca-Cola campaign that was used on Channel 4's 4OD platform.
Karen discussed how constant change in technology influences the way consumers behave with their habits evolving all the time. The increasing popularity in voice searching means it's now more important to consider what your brand sounds like over what it looks like.
Trust has a huge part to play for brands and, with consumers only trusting one in four brands, Karen explained it's important to consider all elements of the Trust Equation, put forward by the Trusted Advisor, that credibility + reliability + empathy + self-orientation = trust.
Exclusive pre-address interview
Watch Karen's pre-address interview below. You can find a transcript of this interview on the Business West website.