George Weston - 22 November 2017
George Weston, Chief Executive of Associated British Foods plc, delivered a Bristol Distinguished Address Series lecture entitled "Value of the industrial food system".
Value of the industrial food system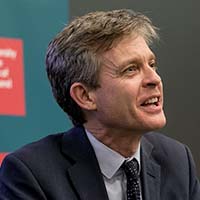 Giving his address in the Weston Lecture Theatre, named in recognition of the Weston Family's generous support to the Bristol Business School, George Weston began his talk going back in Bristol history, where the first chocolate bar was produced. He highlighted that sugar was the most profitable of Bristol's industries in the 18th century.
George went on to explain the importance of the industrial food system, putting it in to context with an example – if you took a 50-mile radius of Bristol only producing food locally, it wouldn't be possible to produce enough food or variety for a well-balanced diet, so the majority of your diet would be meat and dairy.
This led him onto the main topic of this lecture – the industrial food system and what that involves – the ability to produce enough safe and varied food at an affordable price. This involves preservation, and an extensive infrastructure and distribution system.