Deanna Oppenheimer - 9 October 2019
Deanna Oppenheimer, Founder of Cameoworks and Chair of Hargreaves Lansdown, delivered the University's prestigious Annual Bolland Lecture as part of the Bristol Distinguished Address Series with her talk titled "A tale of tech in two cities".
A tale of tech in two cities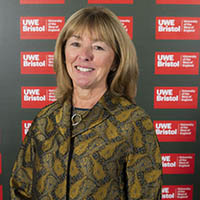 Deanna delivered a very stimulating and insightful talk exploring the similarities between Seattle USA and Bristol. In her talk she describes these cities as the hotbeds of tech innovation that are undergoing rapid development that reflects our modern, tech-driven society. What makes these cities "tech hubs"? Deanna explains that it's investment in the right sectors and a commitment to cultivating the creativity and innovation of the upcoming generation.
Deanna then looks at the fourth industrial revolution and how companies in Bristol and Seattle are developing innovations that will radically alter how we live, work and socialise in the coming decades.
What else do these cities have in common? Deanna explains the parks, green spaces, street arts, film, street food and music contribute to the fabric of the both cities and emphasises the importance of a vibrant cultural scene to attract more innovative, adaptive people. This cultural exposure cultivates a creative environment that attracts tech companies and entrepreneurs.
Deanna also compare the drawbacks of both cities, discussing the cost of housing and traffic problems and what companies are currently doing to overcome these problems.
Podcast
Listen to Deanna Oppenheimer's talk.
Exclusive pre-address interview
Watch Deanna's pre-address interview. You can read a transcript of this interview on the Business West website.