Baroness Shriti Vadera, Chair of Santander UK – 8 March 2017
Baroness Shriti Vadera delivered a Bristol Distinguished Address Series lecture entitled "Post-Globalism".
Post-Globalism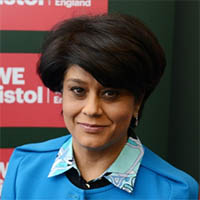 On International Women's Day, we were privileged to have one of the UK's most senior business women and the first woman to be appointed Chairman of a major UK bank, Baroness Vadera, who gave an inspiring and fascinating talk on post-globalism.
The Baroness discussed how globalisation has gone from opportunity to threat and how technology is a great hope for prosperity and growth. She noted that they also present major challenges to the employment market through job reduction and skills mismatch.
Baroness Vadera posed some excellent questions which left everyone eager to hear more.
Podcast
Listen to Baroness Shriti Vadera's talk.
Exclusive pre-address interview
Watch Shriti's pre-address interview.