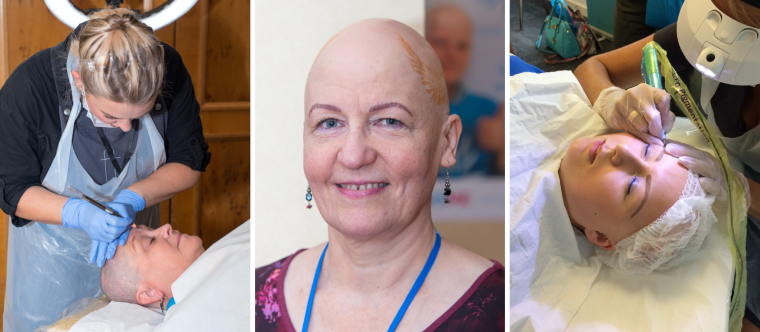 A recent study by the Centre for Appearance Research at UWE Bristol has explored women's experiences of medical tattooing.
Having an appearance-altering condition, such as alopecia, and its ongoing treatment, can have a significant impact on people's lives and emotional health. Despite the wide range of medical treatments available, the success rate of these treatments can vary and the side effects can be unpleasant.
Senior Research Fellow Nicola Stock said: "Alternative treatments, such as medical tattooing, are becoming more popular. However, medical tattooing is a largely unregulated industry and we don't yet have a good understanding of the benefits and risks involved, or how to achieve the best outcome for the individual.
"The study was launched to find out what motivated women to choose medical tattooing and how we could learn from their experiences to support others."
The research team at the Centre for Appearance Research carried out individual telephone interviews with 25 women aged 26-67 years who had experience of medical tattooing in the past five years. Most participants reported a form of hair loss as a result of alopecia, lichen planopilaris or ectodermal dysplasia, and had chosen to have their eyebrows and/or eyeliner tattooed.
Participants had chosen to undergo medical tattooing to alleviate appearance concerns, and to restore self-confidence, identity and/or femininity. Most participants were satisfied with the outcome and would recommend medical tattooing to others.
Amy Johnson lost her eyebrows and eyelashes to alopecia areata in 2010. She said: "Without my eyebrows I no longer recognised the face staring back at me in the mirror. Following a medical tattooing procedure, I identified with my reflection once more and my new eyebrows really helped to boost my confidence. Having medical tattooing isn't for everyone, but it certainly helped me in my own journey with alopecia".
However, the study also identified a need for better regulation of medical tattooing. Leading charity Alopecia UK stated: "Having access to medical tattooing can give people back what they have lost, which can provide a huge boost to confidence. If someone decides they wish to undergo a medical tattooing procedure, we would always recommend that they consult with a suitably qualified professional and ask to see evidence of their work with clients with alopecia."
Rae Denman, medical tattooist and collaborator on the study, commented: "The emotional impact of hair loss should not be undervalued. Treatment to restore appearance due to a medical condition should be distinguished from the beauty industry and should be recognised as a medical need."
The team hope this research will help to raise awareness of medical tattooing and its risks and benefits among health professionals and individuals who have experienced hair loss.