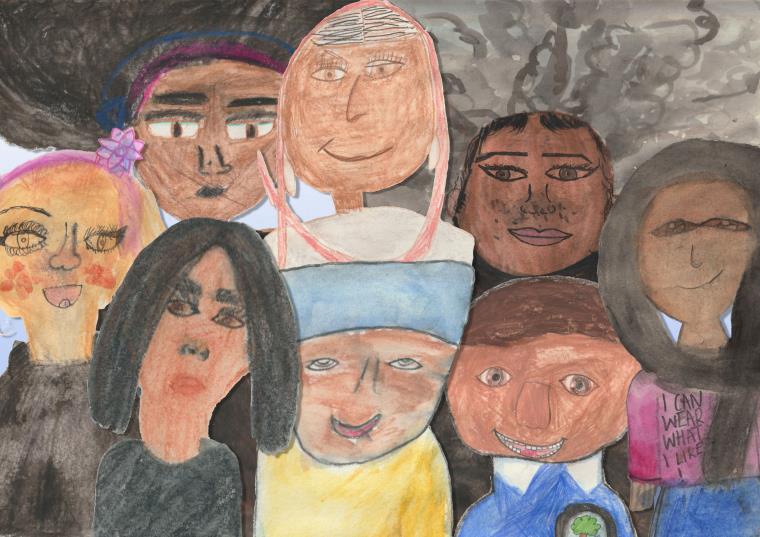 'If Racism Vanished for a Day', a new book for young readers based on the experiences of Bristol children, will be launched at a special event in the city this week.
The illustrated book draws on research with 10- and 11-year olds from three inner-city primary schools and shares their perspectives by considering what life would be like without racism.
The children said: "We made this book because racism is not okay and we want people to understand the way it affects us. Our book is about what it would be like if racism vanished for a day and we hope that reading it will help people think about how they can change what they do. Racism is a really big deal It shouldn't have existed in the first place."
To mark its release, some of the pupils will attend the special launch event at Watershed on Friday 4 November 2022, alongside their parents, teachers and academics from the University of the West of England (UWE Bristol).
The UWE Bristol research project, named RESPECT, began a year ago and was a UK first. The school children are the youngest group in the country to take part in research on this topic.
It found that children experience racism in multiple contexts and with multiple groups — at home, when out and about, and in school.
They experience racism from within their family, between friends — and from strangers, known adults and children.
The book, which features drawings and thoughts from the pupils, aims to raise awareness, as well as offer advice to teachers and parents on how to discuss racism and its impact on the wellbeing and mental health of young people.
At the book launch the children, who have now started secondary school, will take part in a book signing and talk about their personal experiences of racism.
Guests at the event will also hear from speakers including Vanetta Spence, the headteacher of May Park Primary School, and Fumi Stephenson, who is a teacher and daughter of Bristol civil rights activist Paul Stephenson.
Lead researcher Dr Verity Jones, Associate Professor at UWE Bristol said: "Sometimes these conversations might be tricky or feel uncomfortable but the children in the RESPECT project felt they were important conversations to try to have.
"For many teachers and educators racism may feel like a highly politically charged area of debate and one that they feel uncomfortable or unsure of how to approach. We hope this book, which provides accompanying teachers notes and questions for children to discuss, will bridge a gap in reading material currently available."
The impact of racism on younger children's mental health and wellbeing has been consistently overlooked in research in the UK according to the UWE Bristol academics. The researchers initially heard from 80 children who took part in a bespoke, arts-based workshop led by socially engaged artist Luci Gorell Barnes.
This was followed by focus groups with more than 40 children and interviews with their teachers.
Professor Jones added: "There are a number of ways in which experiences of racism might impact primary school children's mental health. Our research was focused on how experiences of witnessing or being the target of prejudice and discrimination might be distressing and how these experiences and exposure to institutional racism might impact a child's longer-term view of themselves and the world around them.
"We were keen to understand how racism might have shaped children's identities and beliefs about their self worth, as well as how negative social interactions might shape how they interpret future interactions and what they come to expect of people."
The research highlighted that many of these young children are deeply affected by institutional racism as depicted by the media, and there is an urgent need for schools to develop greater racial literacy. It also recognised that racism is complicated and is experienced in many different ways.
The academics involved in the project, funded by the mental health research network Emerging Minds, set about to create a toolkit to tackle this issue, with the resulting book aiming to offer children the opportunity to discuss and think about some difficult issues.
'If Racism Vanished for a Day', is available in print, as an e-book and is viewable online.