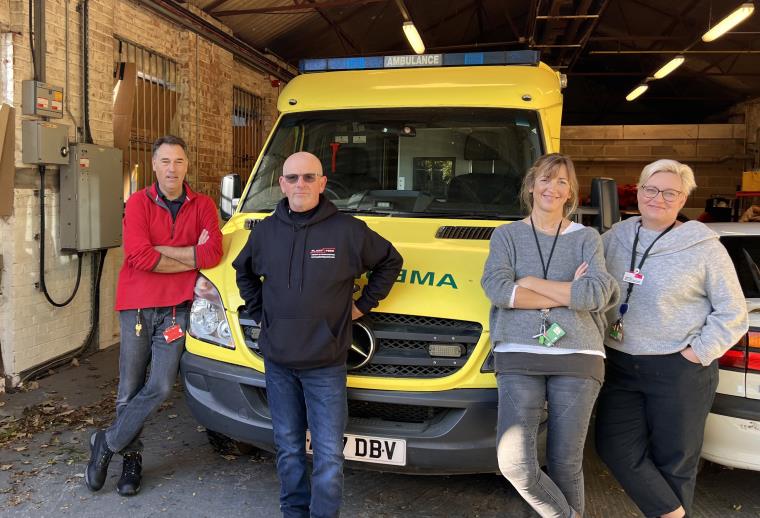 An ambulance donated by UWE Bristol has been delivered to Ukraine as part of a mission to help train emergency service workers and deliver medical equipment to the front line.
The School of Health and Social Wellbeing donated the ambulance to the non-profit organisation Outreach Paramedics, which was founded by former UWE Bristol student Faye Shepherd last year.
The ambulance was one of two to be driven out to Ukraine and donated to Ukrainian fire services last month, as part of a mission that saw Faye and three other British paramedics train 167 firefighters in pre-hospital emergency care, trauma, and life support.
Mark Wood, a Senior Technical Instructor at UWE Bristo,l said: "It was an easy decision to make when Faye approached us for help. She said she was taking supplies to Ukraine and we managed to donate PPE that we had left over from the pandemic. Then we were also able to offer one of our ambulances, which needed some repairs but was fixed in London before being driven down to Outreach Paramedics in Cornwall.
"I had the privilege of being invited to their premises in Saltash to see the paramedics off on their mission to Ukraine with their two ambulances filled with medical supplies. It was an honour to attend and to wish them good luck in their endeavours.
"I have since heard the news that the mission went well, which is fantastic. It is terrific to be able to support such a worthy cause, and I hope they can make many more successful missions in the future. I'm really impressed with the dedication of the team that travelled out to Ukraine."
The volunteers at Outreach Paramedics have raised more than £25 000 through a public crowd funder that has enabled the donation of defibrillators, stretchers, splints, and bandages.
The team of four from Outreach Paramedics returned home on Saturday after two weeks spent training first responders in Rivne and Khmelnytskyi in western Ukraine.
Faye, who studied for a Diploma in Higher Education Paramedic Science at UWE Bristol last year and is now working as a paramedic in North Cornwall, told the Press Association news agency: "Their hospitality was phenomenal, it really felt like being welcomed into a family.
"We have immense admiration for the Ukrainian people and their courage through adversity – it's like nothing else.
"I mean, when we had the air raid siren go off while we were training, they grabbed all of our training equipment and took it down to the basement while we sheltered.
"They wanted to continue to learn, they wanted to maximise their time with us so they could treat their colleagues or treat themselves if the worst happened.
"It's a real heartfelt thank you from everyone at Outreach Paramedics and I must convey the thankfulness of the Ukrainian people."
For more information about the work of Outreach Paramedics, visit JustGiving.