Audio and Music Technology facilities
Dedicated music studios, digital resources and industry standard equipment.
Take a tour of our Audio and Music Technology facilities
Immerse yourself in our Audio and Music Technology facilities by viewing our 360° images below. Move between different rooms and spaces by using the arrows or menu bar on the top left, and use the controls or your cursor to explore the images. You can also expand to full screen using the icon on the bottom left of the images.
What's waiting for you?
Dedicated music facilities
Acoustic isolation chamber.
Dedicated music studios and post-production suites with stereo and surround capabilities.
Mobile recording vehicle.
Two dedicated lecture theatres with high-end audio.
Industry-standard equipment
Our technical equipment matches your creativity and talent – play, explore, and create breathtaking soundscapes with kit including:
Microphones - Neumann, AKG, Shure, Soundfield (SPS422B)
Multichannel Interfaces - MOTU, M-Audio, Lexicon, Audient
Multitrack and Handheld Recorders - TASCAM, Zoom.
Digital resources to develop creativity
Mac Labs - iMacs, up-to-date programming and production software, and new audio equipment (Novation Impulse 49).
Software - including Adobe Creative Collection, Tama Superstar Hyperdrive, Logic Pro X, Waves Gold Bundle, CLA Classic Compressors Bundle and Sibelius 8 Music Notation software.
Digital creative suites - access industry-standard video and editing facilities, sound recording facilities, and all the latest design, animation and illustration packages.
Ambisonic Microphones (Soundfield SPS200; Sennheisser Ambeo)
East West Sample Library
Avid Artist Mix Control Surface
Allen and Heath and Soundcraft Location Mixers
FMOD + Unity 3D
iZotope RX
Reaper
ROLI Seaboard Rise 49
Soundman Dummy Head and Roland Binaural Earphones
Good to know: workshops with specialist technicians are available to help you make the most of all the fantastic kit.
A Centre for Music for everyone
The Centre of Music is a great resource for musicians, music production, beat-making and DJing.
Play in groups and take music lessons.
Book rehearsal rooms and practice rooms.
Be part of a community of passionate musicians and meet new collaborators.
Library and online resources
Our well-equipped Frenchay Campus library has a variety of resources to enhance your learning. You can also access journals, e-books and work books online.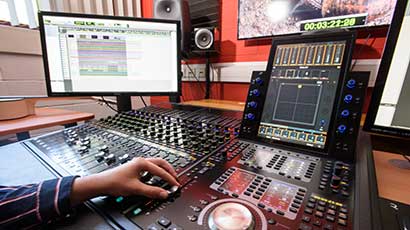 Our courses include: Audio and Music Technology, Creative Technology (MSc) and more. Find out why you should study an Audio and Music Technology degree at UWE Bristol.