Festival of Learning
This takes place from 17-22 June 2021 and provides a platform to communicate and share ideas about pedagogy and good practice.
Festival aims
Since 2019 the Academic Practice Directorate (APD) has built on the success of the UWE Bristol Learning and Teaching Conference and brought you a new style of event, the Festival of Learning.
The Festival of Learning 2021 will take place online from 17-22 June 2021, to provide both certainty of delivery and to build upon the hugely successful online 2020 Festival.
The Festival will continue to champion inclusivity, provide a platform for those involved in teaching and supporting learning to communicate and share ideas about scholarship and good practice.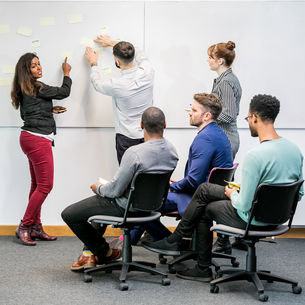 How to contribute
We are looking for contributions. We welcome submissions from all members of the UWE Bristol community; early career, professional services, academics or students. You have until midnight on Sunday 17 January 2021 to submit your proposal.
Themes and format
Themes
Strategy 2030 and the pillars of people, place and purpose are at the heart of Festival 2021, as we move forward from these challenging times.
Under the overarching theme of "Transforming Futures" the sessions during the Festival will address one or more of the following sub-themes:
A university with an inclusive and anti-racist culture educates and includes everyone, and supports everyone to achieve their full potential.
Thriving in an uncertain environment: what does this look like for Higher Education and for our graduates?
"The mental health and wellbeing of our university community is fundamentally important in enabling people to engage, perform and flourish." (Statement from UWE Bristol Mental Wealth First strategy)
Format
There will be various interactive activities in an attempt to reduce the focus on the standard presentation format. These will include reading groups, freestyle sessions, reflection activities, workshops and an exciting new style of asynchronous presentations and discussions.
If you have any ideas or queries, please email academicpractice@uwe.ac.uk.
How to attend
Details of how to attend will be available closer to the time.
You will be able to build your own programme to fit in with your existing commitments. You can attend as much as you like in this flexible format.
We are committed to creating and maintaining a friendly, safe and inclusive environment, regardless of age, disability, gender, gender identity, language, marriage/ civil partnership status, national or social origin, physical appearance, pregnancy and maternity, race, religion or belief, sexual orientation. Delegates and contributors will be expected to agree to a code of conduct when they register to attend the event.
Praise from the 2020 event
Colleagues felt the June 2020 Festival of Learning had an impact on their practice and 98% of respondents said their expectations of the Festival were met or exceeded.
"Has given me new ideas for how to teach online."
"It widened further my network of colleagues to work with to enhance the student experience"
"I'm keen to explore some of the points raised about digital assessment. I have also emailed a fellow attendee to continue a conversation we started at the conference, about assessment."
"I think this Festival has enabled a greater Team approach to implementing new practices. Some of the technology demonstrated will enhance our on-line programme delivery and create confidence in those new to this form of delivery to try new approaches and even develop new ways of working."
"I have already spoken to our Programme Lead and the wider teaching team about how we make our programme more relevant to BAME students and work has begun on reviewing the syllabus and reading lists."
"I am more confident using online tools and also how to make my existing content more interactive."
"You could see collaboration happening before your eyes!"
Attendee Festival of Learning 2020
Festival of Learning resources
Festival of Learning 2020 resources
Visit the Blackboard course to view recordings of presentations and download materials from the Festival of Learning which was held between 18 and 23 June 2020. Please note that you may need a staff login to view these.
You can view full details of the event on the Festival programme which includes over 50 contributions from diverse colleagues.
The event was opened by Deputy Vice Chancellor and Provost, Amanda Coffey. Vice Chancellor Steve West introduced our keynote, Nona McDuff – "Reducing the BAME attainment gap – taking it seriously at an institutional level". Nona is the Pro Vice-Chancellor, Students and Teaching at Solent University. She was awarded an OBE for her services to diversity in higher education and is a Principal Fellow of the Higher Education Academy.
Our second external speaker was Tony Churchill, Nottingham Trent University, with: "Scaling up Active Collaborative Learning for Student Success". This workshop considered a successful pedagogic response to the challenge of ensuring that all students succeed, regardless of their background: Student-Centred Active Learning Environment with Upside-down Pedagogies.
We are committed to creating and maintaining a friendly, safe and inclusive environment. Read over our Permissions and Notices for more information about our ethos, to view our privacy notice and request to use images.
Materials on Blackboard are in accessible formats wherever possible and can be downloaded in alternative formats, such as audio.
If you have any queries, please email the Academic Practice team at academicpractice@uwe.ac.uk.
Festival of Learning 2019 resources
You can view full details of the event on the conference programme.
Events during the Festival included:
keynote by Professor Jane Setter, University of Reading: "A thousand words: BAME student life through a lens"
keynote by Professor Osama Khan, Pro Vice-Chancellor, Students and Teaching, Solent University, on digital learning and learner analytics.
Key themes were inclusivity and digital learning. You can catch up on slides and videos, including the very popular session by Professor Osama Khan on Sharepoint (UWE account required).
February - March resources
You can view full details of the event on the conference programme.
Events during the Festival included keynotes by: Professor David Read (University of Southampton) who argued for and against the use of lectures in modern university teaching; Fabienne Vailes (University of Bristol) about the 'Flourishing Student', as well as an Enhancement Framework 101; and an update on the Grand Challenge discussion and workshop.
Please note that you may need a staff login to view these:
If you would like to see the slides from another presentation, please email academicpractice@uwe.ac.uk.
You may also be interested in