UWE Bristol's coat of arms
Discover the meaning and significance of our coat of arms.
The University of the West of England, Bristol has its roots in a number of colleges, which reflect a lively local tradition of vocational education dating back as far as 1595.
From a merchant navigation school to the present day, our coat of arms was designed to represent, and to celebrate, the long and interesting history of our institution.
See below for furthers details of how our crest celebrates our colourful past and discover how it echoes and embodies the city of Bristol and our university values, including our university motto.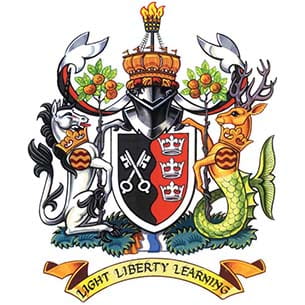 Crest
The crest on top reflects the city of Bristol's long connection with the sea. The ship's mainmast and rigging represent the Merchant Venturers' Navigation School. The flaming firebasket, or cresset, perched on the rigging, denotes guidance, hope and the desire for learning.
Shield
The shield in the centre is an adaptation of that of the College of St Matthias. The wavy line down the middle of the shield represents the Rivers Avon and Severn.
Unicorn and sea stag
The unicorn is taken from the arms of the city of Bristol and the sea stag from that of the former County of Avon. Both these 'supporters' have a crown of King Edgar around their necks, who was regarded as a local monarch because of his coronation in Bath Abbey. The circles with wavy lines on the shoulders of the supporters represent the fountain of knowledge and learning.
The unicorn and sea stag each support a standard apple tree - the tree of knowledge - taken from the coat of arms of the Council for National Academic Awards, which accredited degrees awarded to students of Bristol Polytechnic.
UWE Bristol motto
The motto Light, Liberty, Learning is a quotation from Disraeli and corresponds to the symbolism of the coat of arms. The firebasket is the light, the Avon and Bristol supporters symbolise liberty, and the trees of knowledge represent learning.