Box of Broadcasts (BoB) is an off-air recording and media archive service.
This TV scheduling service allows you to record TV and radio programmes that are scheduled to be broadcast over the next seven days. The archive contains over 2.2 million broadcasts.
Access the database
Due to copyright restrictions, you need to be physically located in the United Kingdom to use BoB
BoB is available to staff and students of member institutions of the British Universities Film & Video Council that hold an ERA+ license
Database is not included in the main library search
Students and staff at international partner institutions cannot use their UWE Bristol login to access this database
Databases provided by UWE Bristol are for educational use only and should not be used for commercial corporate purposes or by unlicensed users
Database user guides
Video playback is currently not supported in Internet Explorer. If you are using Internet Explorer, please switch to another browser, such as Chrome or Firefox.
Sharing BoB videos
To send out a link to other UWE Bristol students or staff, locate the video you wish to use and then select the 'share' button from the options beneath the video recording. Next, highlight and copy the appropriate link and paste as needed. The WAYFless link will take students and staff directly to the UWE Bristol log-in in order to access the resource.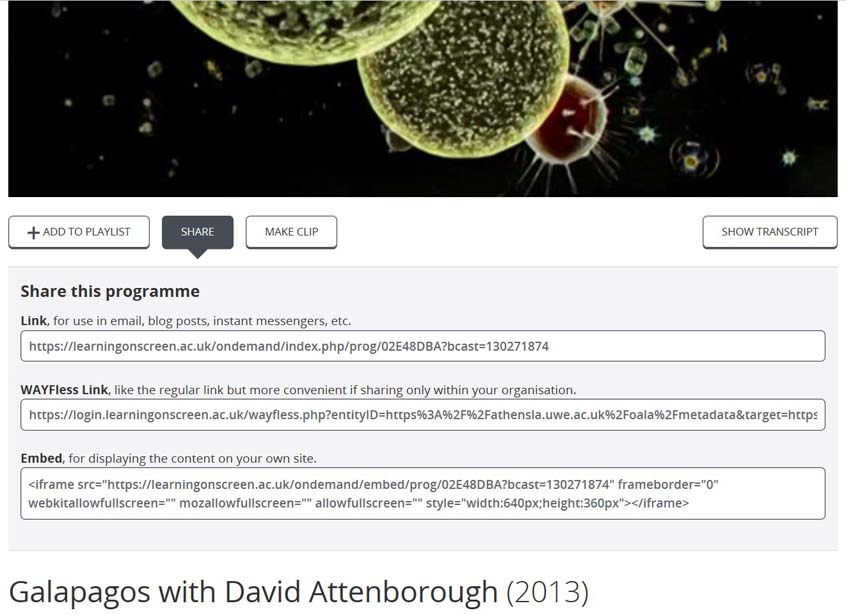 Ensure that you cite the broadcast by copying the information in the Citation box and pasting as appropriate.
Using BoB videos in presentations
The easiest and most reliable method of using one or more videos within a presentation is log into BoB and then save them to 'MyBoB'. At your presentation, log into BoB and run them from 'MyBoB'.
Ensure that you cite the broadcast by copying the information in the Citation box and then pasting it into your presentation.
Publisher
BUFVC - British Universities Film Video Council