Mike Fergie (aka Suitcase Sound System) was a previous runner up in CFM's Dubplate competition and kicked off our live streaming capability with an incredible performance filmed at CfM. He studied Music Technology at UWE Bristol and makes deep dub for his sound system inspired by Jamaican dance music culture.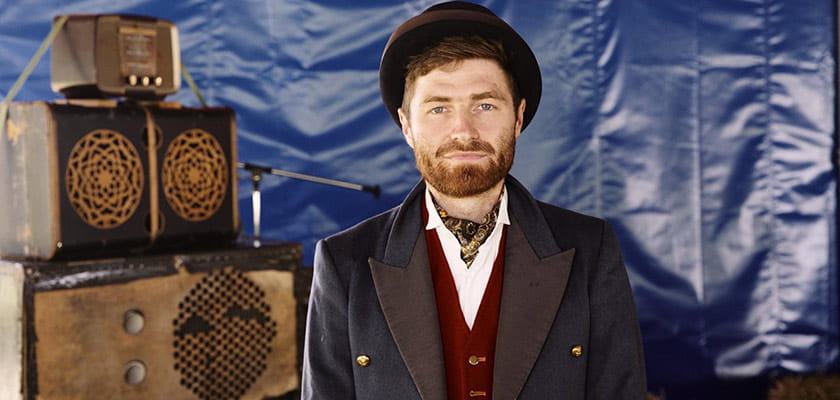 Fergie started the Suitcase Sound System in 2012 along with an artist and DJ called Casey.
The sound equipment he uses is built into old trunks and suitcases for a loud and clear sound with a unique visual appeal and power efficiency, often run on battery power at events and festivals. The bespoke grills were designed and hand carved.
Fergie provides sound and music for a range of events from performance arts to protests and parties. Fergie and the Suitcase Soundsystem are working towards setting up dances focused on Jamaican and African dance music and good vibes.
During lockdown, they experimented with creating their own tracks inspired by Jamaican dub music ready to cut on dubplate.
Mike Fergie - Kora Dub
Listen to Fergie's debut Suitcase Sound System cut - mixed by the Centre for Music, mastered and cut to wax in Bristol.
Follow Suitcase Sound System:
Tell us about your experience of Dubplate
Going into the studio I had no idea what would be involved, but once we started listening to the track, we had all sorts of ideas around sending parts of the signal through the analogue tape delay, and the spring reverb to try and bring more a of an authentic dub sound to the track, which is mostly made from Native Instruments Komplete plugins. This was a lot of fun, sometimes we just recorded parts through the tape machine, and found that it added a subtle variation to, for example, the hihats, which otherwise sounded quite mechanical. This was a fun way of adding a bit of authenticity that you don't get when using software plugins, the difference in character was instantly noticeable.
We also took the opportunity to record some live percussive elements to the track, including djembe and timbales. When recording I didn't know exactly which parts of the track it was needed on, the original composition had intentionally left space for live percussion to accompany the soundsystem, but I thought it would be good to include some given the opportunity. After recording we edited the percussion performance, this process gave me a much better idea of how to add the percussion to the track at the performance stage, but by this point we had to stick with what we had and get the track ready for mastering.
How experienced a producer do you need to be to be involved?
Although I have been interested in music production for many years, my production skills have developed the most during my studies at UWE Bristol. This is down to the depth of understanding that I have gained into analogue and digital signal flows, industry production standards, and how computer programs work. However, I don't consider my production skills to be any better than many of the students on my course who are much younger than myself.
For this competition and music production in general, I would say it takes a mix of production skills and musicality. What rhythms, melodies and stories move people is just as important as getting that professional sound.
"It was incredibly useful seeing my track mixed by a professional engineer in a studio, it opened my eyes to some of the techniques involved and gave me a strong point of reference as how to develop my tracks in the future. "
Biography
Fergie describes himself as a grown up student, having just turned 32 and in his final year of Audio and Music Technology. His main interest in music is playing drums and percussion and is particularly inspired by the collaborative improvisation between drumming and dance in African music.
After leaving college, Fergie started playing drums and percussion to accompany circus performances in the South West, which he enjoyed because it involved collaborative improvisation and an element of the unexpected. This led to some interesting experiences such as CarnyVille with the Invisible Circus, an immersive circus theatre spectacular that pioneered immersive theatre experiences at festivals such as Boomtown and Shangri-La.
Fergie is currently working with the Bullzini Family Funambulists, The Men In Slacks, and Cirque Bijou, with whom he was the music director for their show 'Balance of the Cosmos' at the Taiwan Lantern Festival 2020.
Suitcase Sound System gallery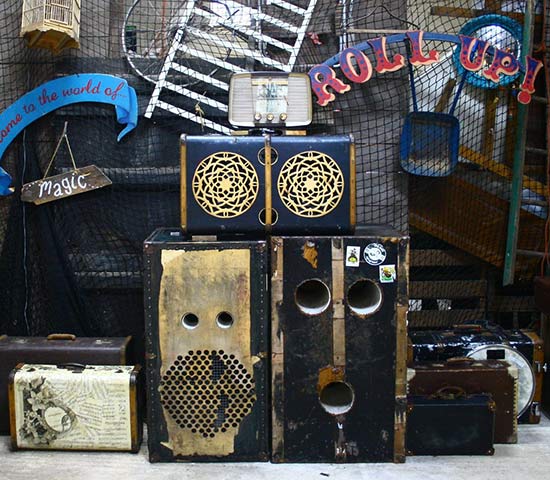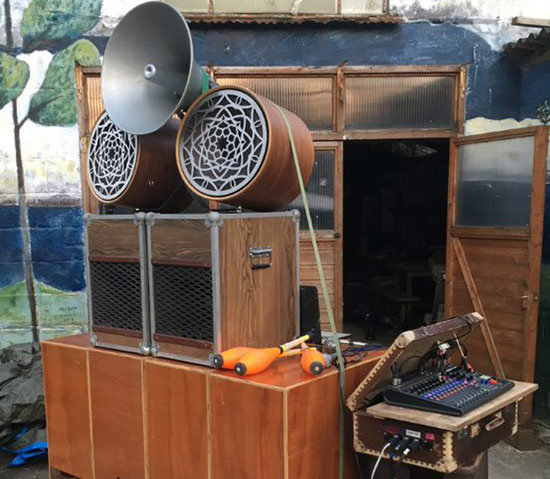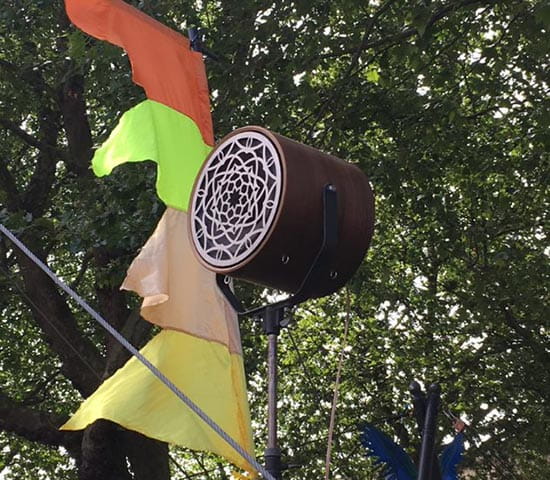 Guy won our 2020/21 Dubplate competition with his song 'Plans' after joining the Centre for Music for the first time in 2020 while studying Music Tech at UWE Bristol.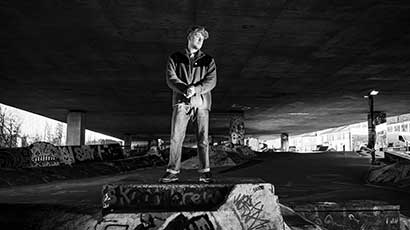 A previous winner of the Centre for Music's dubplate competition, James's track 'Freak' was pressed on a double A side vinyl release.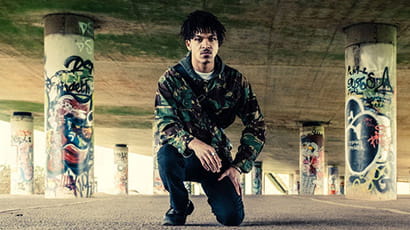 Listen to Dubplate 2021 winners Guy Williamson and Mike Fergie's freshly cut tracks , plus music from other previous winners, and find out more about the Dubplate competition.