Viola player Tilly won a Centre for Music (CfM) Accompanist Scholarship awarded to musicians at UWE Bristol for excellence in classical music.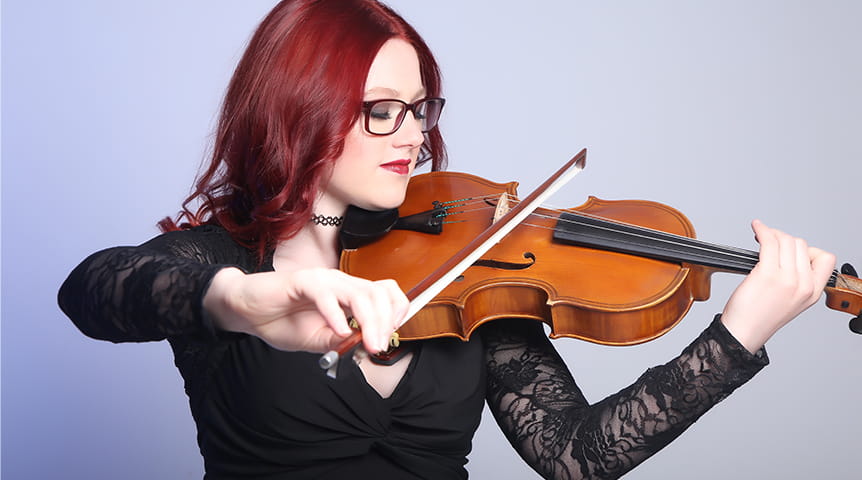 Tilly will be performing at our annual event Festival of Sound at Bristol Beacon on Saturday 19 March 2022. A free, all day, family friendly event with lots of music performances from musicians, singers and bands. Find out more about Festival of Sound.
Tilly is currently preparing an exciting repertoire with CfM classical accompanist Alison Howell. We can't wait to stream and record their performance.
Biography
Tilly trained at Chetham's School of Music from age 13 before going on to study at the Royal College of Music. She was a member of the National Youth Orchestra and in her final year was Principal Viola. Tilly has performed at concert venues across the world including Royal Albert Hall at the BBC Proms, Buckingham Palace, Royal Festival Hall, Cremona Concert Hall and Stavros Niarchos Foundation Cultural Center.
In 2012 Tilly became a member of Paraorchestra and performed with them and Coldplay at the London 2012 Paralympic Closing Ceremony.
She is still a member of Paraorchestra and enjoys regular projects and concerts with them including Glastonbury Festival, Womad Festival and a recent documentary on Sky Arts. Tilly has been a member of the Delphi Quartet since her time at Chethams. They are junior fellows for the Aberystwyth Music Festival and have performed across the UK and Europe. Tilly also plays with bands across many genres on the electric violin.
Tilly is currently studying a masters in Music Therapy at UWE Bristol.
Watch CfM's Kat Branch chat to Paraorchestra's Associate Music Director Lloyd Coleman.
In this video Tilly is playing viola for a 'Childish Gambino' cover.
What is the CfM Accompanist Scholarship?
This special award is designed to enable classical musicians to do some really focused work on pieces of their choice with an experienced accompanist. It is an annual award given to UWE Bristol students who demonstrate excellence in classical music. Students can audition each year for the amazing opportunity to enjoy 12 hours of one-to-one rehearsal and performance with our incredible accompanist Alison Howell who will play any repertoire the recipient chooses, with opportunities for recording and performance.