What's on
Find out what's been happening and what's coming up at the Centre for Music including music lessons, masterclasses, competitions and events.
What's on
Latest performances
View latest performances from our members and see videos from our events and competitions.
View all performances
Bands and solo artists
View band profiles from our featured Centre for Music musicians.
View all band profiles
What we offer
No matter what you are studying, or whether you are an expert or a beginner, we have fantastic opportunities to learn and perform music from classical and jazz, rock and pop, to hip-hop, rap and electronic. We offer:
music lessons and masterclasses
rehearsal studios and practice spaces
recording studios and help with recording and producing techniques
playing and singing opportunities to suit all styles and musical interests.
More about what we offer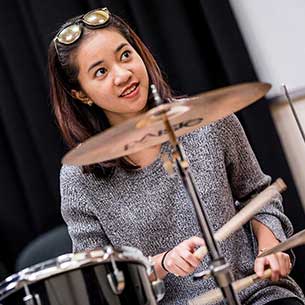 Centre for Music Showreel playlist
Check out some of our favourite tracks from musicians, artists and ensembles at Centre for Music.