Charlotte Fowler is a first year Biomedical Science student at UWE Bristol who joined our Technicolour group after contacting us expressing an interest in singing opportunities and musical theatre.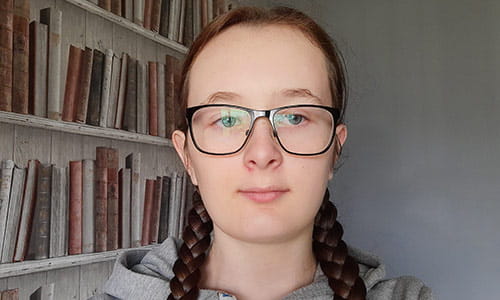 Charlotte found Technicolour to be perfect for her and the Centre for Music (CfM)'s student sponsorship opportunities meant she could access all the rehearsals and social events for free.
"Technicolour is an amazing and glitter-filled choir group which sings phenomenal remixes of musical theatre songs with fresh music. Technicolour welcomes anyone with any level of experience."
Charlotte loves Spiderman and Marvel and her favourite song is 'Rain' by Ben Platt.
She's really enjoyed the challenge of singing in Technicolour and loved being part of the virtual choir video performance of 'Waving through a window'.
'Waving through a window'
Watch their mashup of 'Waving through a window' from 'Dear Evan Hansen' with 'What's up' by '4 Non Blondes'.
Another huge benefit to Technicolour for Charlotte is the social aspect. Technicolour have happy hours after rehearsals and quiz or theme nights which give all participants a chance to catch up and make new friends.
"I only started Technicolour in October 2020 after receiving a Centre for Music email telling me about it but so far it has been totally fetch!" she says.