Task Sequence Page
Guidance on using the Task Sequence Page template.
Using the Task Sequence template
This template is good for instructional content. Use it for displaying chronological steps users need to follow to achieve an end result, such as booking a medical appointment or registering for graduation. By default, users only see the heading for each step. They can expand each step as needed. More than one step can be expanded at a time.
Avoid using this template if the steps users need to follow aren't linear or can't easily be broken down in to steps. If they're really complicated, another template would work better.
Using Task Sequence templates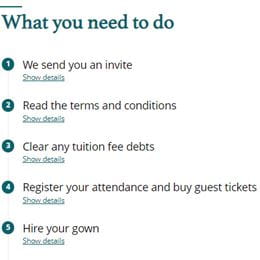 Display linear steps
Show up to nine chronological steps in a task sequence.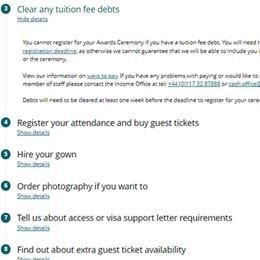 Key stages at a glance
Users choose which parts they want to expand and read.
Only for chronological steps
This template isn't suitable if your steps aren't linear.
Task Sequence
The headings should be clear and instructional. It should be obvious what the heading refers to without having to open the step. You need a minimum of one sentence in every step for the template to work - you can't have a heading like 'register with a doctor' without any explanatory content within that step.
You need to manually rearrange the tasks if you want to change the order.