Nursing Associate Degree Apprenticeship
The Nursing Associate Degree Apprenticeship provides the knowledge and skill base needed to support registered nurses in a range of care settings.
About
This apprenticeship is for individuals already working in health care who are motivated to progress with their nursing role.
Successful learners will achieve a level 5 qualification and be eligible to register with the Nursing and Midwifery Council (NMC) as a nursing associate.
Course details
Attendance at the University is one day per week over an academic year. Time away from the base placement is also embedded within the programme and is arranged by the employer. This enables the nursing associate to care for a range of patients and clients across the age spectrum.
Placements and supervisors are managed by the employer.
Indicative content
Year 1
Improving Safety and Quality.
Applied Anatomy and Physiology for Clinical Practice.
Communication and Relationship Management Skills.
The Accountable Professional in Clinical Practice 1.
Provide and Monitor Care.
Year 2
Contributing to Integrated Care.
The Accountable Professional in Clinical Practice 2.
Promoting Health and Preventing Ill Health.
Working in Teams.
Pharmacology and Medicines Management.
Learners will also be supported to develop a learning portfolio.
Apprentices will be assessed throughout the programme both in practice and academically. To meet all styles of learning there is a variety of forms of assessment, including exams, assignments and presentations.
Qualifications
Nursing Associate foundation degree (Level 5).
On successful completion of the programme, the nursing associate will have a foundation degree and be able to register with the Nursing Midwifery Council.
Entry requirements
The University's standard entry requirements apply with the following additions and exceptions:
Disclosure and Barring Service (DBS) check, and occupational health confirmation that is dated within the previous 12 months (employer requirement)
functional skills level 2 in Maths and English or grade C (minimum grade 4) GSCE Maths and English or equivalent, and NVQ level 3 / BTEC or equivalent
must be employed in a health care role.
Additional selection criteria
Health assessment, declaration and vaccinations
Applicants must be in good health and be up-to-date with routine immunisations, for example, tetanus, diphtheria, polio, and measles, mumps, and rubella (MMR). Employers are responsible for ensuring this can be evidenced at the start of the course. Applicants will also be required to confirm their status with respect to a number of infectious diseases and immunisations (tuberculosis, measles, mumps, rubella, chicken pox, varicella, hepatitis B, hepatitis C, HIV antibodies) and be prepared to have all required vaccinations funded by the employer. If vaccinations are not up-to-date, this will affect the student's ability to continue on the course. Concerns with regards to vaccinations should be raised at the point of application.
Applicants are required to complete a Disclosure and Barring Service (DBS) enhanced check with UWE Bristol. Offers of a place will be subject to Disclosure of Criminal Background. The Rehabilitation of Offenders Act 1974 does not apply and all convictions, including those which are spent, must be disclosed. This is in accordance with the Rehabilitation of Offenders Act 1974 (Exceptions) Order 1975.
How to apply
Prospective students may only apply for a degree apprenticeship through their employer. If you are interested in any of our degree apprenticeship programmes, speak to your employer in the first instance.
There is funding available to sponsor employees' professional development on degree apprenticeships. We will work with your employer directly to manage your application.
Benefits for businesses
This programme will equip your employees with the wide-ranging skills they need to provide effective support to registered nurses in your workplace.
Through a combination of academic theory and work-based practice, they will develop skills in all areas of nursing: from the initial assessment and planning of care, to its delivery and evaluation.
Your employees will be equipped to carry out safe and effective practice, demonstrating appropriate values and behaviours in a range of health and social care settings. They will demonstrate personal responsibility while working under the supervision of the registered nurse, who will benefit from greater flexibility to focus on complex care duties.
Decision-making skills will be enhanced leading to increased confidence and understanding of care delivery.
Your staff will be motivated and inspired by the opportunity to experience a variety of health and social care environments that cover the age spectrum.
An employer's guide to the deployment of qualified registered nursing associates in social care settings (skillsforcare.org.uk).
Why UWE Bristol?
You will be registered as a UWE Bristol student, and get access to our extensive online and library resources. You'll be allocated an academic personal tutor who will support you throughout the programme, and you will receive help and guidance with developing study skills.
Our excellent links with clinical practice means teaching is influenced by current thinking and best practice in the field. Our clinical partners also lend their expertise to periodic reviews of your progress throughout the programme.
Contact the Degree Apprenticeship Team
To find out more about the Nursing Associate Degree Apprenticeship, or for more information about the levy, funding available and degree apprenticeships, please email our Degree Apprenticeships Team at apprenticeships@uwe.ac.uk or call us on +44 (0)117 328 4888.
You may also be interested in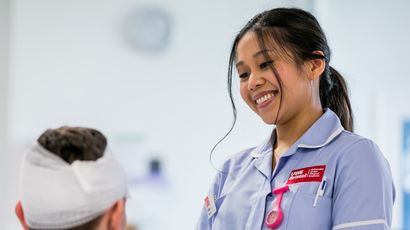 View our range of current higher and degree apprenticeship courses, plus find out about apprenticeships currently under development.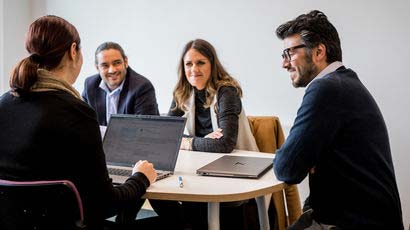 Explore an A–Z of professional short courses available to study at UWE Bristol.