Nursing Degree Apprenticeship
This degree apprenticeships has being designed for healthcare professionals such as healthcare assistants, trainee nursing associates or assistant practitioners wishing to progress into professional nursing.
About
Drawing on UWE Bristol's long-standing links with the NHS, and private and voluntary sector providers, this training route enables you to complete your professional nurse education, while continuing in your current role.
Learners looking to take the next step in their training can benefit from this employer-funded training option, to demonstrate a greater depth of knowledge and advanced skills, confidence and competence. By the end of the course, you will be equipped to meet the specific care needs of people, working with adults, children, or those with learning difficulties or mental health needs.
Over the course of four years, students will receive education validated against the Nursing and Midwifery Council (NMC)'s (2018) standards, including theory and practice-based learning in their chosen field of nursing.
Course details
The Nursing Degree Apprenticeship programme is mapped to the proficiencies set out by the NMC (2018).
This course is organised as a day or block-release programme.
Assessment takes the form of continuous clinical practice assessment, written assignments, case studies, Objective Structured Clinical Examinations (OSCEs), project/portfolio work, timed examinations and presentations. In your final year, you will complete a dissertation.
Indicative content:
Preparation for professional practice.
Physiology, pharmacology and public health.
Complexities of health.
Evidenced-based pharmacology.
Assessment and clinical reasoning.
Healthcare research methods.
Leadership and supervision.
Placement learning.
Final project.
You'll take part in simulation activities, lectures, group work, and directed and self-directed learning.
This course has a strong practical focus, allowing you to gain competence carrying out the hands-on tasks you'll perform in your career. About half their time will be spent on placements.
You'll have access to all the support and facilities you need, including our Skills Simulation Suite: an imitation ward where you'll develop your clinical expertise in a safe, instructive environment.
Qualifications
You will graduate with one of the following:
BSc(Hons) Nursing (Adult)
BSc(Hons) Nursing (Children and Young People)
BSc(Hons) Nursing (Learning Disabilities), or
BSc(Hons) Nursing (Mental Health)
On successful completion of the programme, you will be able to register to practise as a professional nurse with the Nursing and Midwifery Council (NMC).
Entry requirements
All applicants will need to be employed in a relevant nursing role.
We welcome applications from candidates from a wide variety of backgrounds, therefore we will consider those with equivalent qualifications or professional experience where the below requirements are not met.
The typical entry requirements for this programme are:
Tariff points: 112.
GCSE: Grade C/4 or above in English Language or Literature, and Mathematics or equivalent.
A-level subjects: Grade C in a Science or Social Science subject.
EDEXCEL (BTEC) Diploma: Applicants will need a minimum of five units in a Science or Social Science Subject, and may be asked to do more based on the size of your units. Applicants will be asked to list the units studied in their application. For further advice on acceptable units, please contact us.
Access: 15 Level 3 credits at Merit in a Science or Social Science subject.
Baccalaureate IB: A minimum Grade 5 in a Higher Level Science or Social Science subject.
Irish Highers: H2 in a Science or Social Science subject.
T Levels: Applicants must be studying one of the following: Health or Science. For further advice on acceptable subjects, please contact us.
Subjects that meet the Science/Social Science requirement for this course include: Biology, Applied Biology, Human Biology, Chemistry, Design and Technology, Food Technology, Environmental Science, Geography, Geographical Science, Geology, Health and Social Care, Mathematics, Physical Education, Physics, Psychology, Applied Science, Science (Biology route), Science (Chemistry route), Science (Physics route), Science in Society, Sociology, Sport and Physical Education, Sports Studies.
All applicants will also be required to complete:
Disclosure and Barring Service (DBS) check*
health checks*.
*All information will be treated in confidence and only taken into account when absolutely necessary.
Additional selection criteria
Health assessment, declaration and vaccinations
Applicants must be in good health and be up-to-date with routine immunisations, for example, tetanus, diphtheria, polio, and measles, mumps, and rubella (MMR). Employers are responsible for ensuring this can be evidenced at the start of the course. Applicants will also be required to confirm their status with respect to a number of infectious diseases and immunisations (tuberculosis, measles, mumps, rubella, chicken pox, varicella, hepatitis B, hepatitis C, HIV antibodies) and be prepared to have all required vaccinations funded by the employer. If vaccinations are not up-to-date, this will affect the student's ability to continue on the course. Concerns with regards to vaccinations should be raised at the point of application.
Applicants are required to complete a Disclosure and Barring Service (DBS) enhanced check with UWE Bristol. Offers of a place will be subject to Disclosure of Criminal Background. The Rehabilitation of Offenders Act 1974 does not apply and all convictions, including those which are spent, must be disclosed. This is in accordance with the Rehabilitation of Offenders Act 1974 (Exceptions) Order 1975.
How to apply
Prospective students may only apply for a degree apprenticeship through their employer. If you are interested in any of our degree apprenticeship programmes, speak to your employer in the first instance.
There is funding available to sponsor employees' professional development on degree apprenticeships. We will work with your employer directly to manage your application.
Benefits for businesses
The aim of the apprenticeship is to both support the training of Registered Nurse Degree Apprentices (RNDA's) and the career progression of Assistant Practitioners (AP's) and Nursing Associates (NA's) to become Registered Nurses.
For further information, please read FAQs for Registered Nursing Degree Apprentices, Employers and Educators (PDF).
The Registered Nurse Degree Apprenticeship offers a new way to plan for your future workforce, and up skill your staff, by investing in their nurse education and retaining their talents in house.
As they develop, and meet, the NMC skills and proficiencies to practise, you will hold onto their expertise, with all their tuition fees being funded through the Apprenticeship Levy.
It's a flexible and practical way to invest in your employees' professional development, as you address any potential skills gaps in your current teams, and they are supported to make an even greater contribution to your department.
With access to the latest practice-led education, apprentices will develop as competent, well-rounded practitioners, with strong professional values, a strong identity and a strong person-centred approach.
Your organisation will also have the full support of UWE Bristol's experienced academic community, benefitting from our strong reputation and expertise in nursing, and our extensive links with healthcare trusts and providers.
Why UWE Bristol?
UWE Bristol has an excellent reputation for its nursing courses, and the calibre of its graduates.
This apprenticeship draws on our strengths in developing sustainable, employer-led nursing programmes, enriched by the latest in best practice and clinical understanding.
Making use of interactive learning methods, technology and innovative simulation facilities, we ensure apprentices achieve the fundamental skills for their chosen practice area, but are also able to problem solve, assess, coordinate, make informed complex decisions, and lead and transform care.
With a year-long placement in years one and two, two placements in Years three and four, and off-the-job learning in different departments, apprentices spend about half the course applying their knowledge and building their professional skills in a range of settings. We have excellent links with local employers, and placements are normally split between NHS roles and positions in private or voluntary sector organisations.
Regular review meetings ensure apprentices stay on track academically and in practice, and develop as caring, competent and critically thinking nurses.
Contact the Degree Apprenticeship Team
You may also be interested in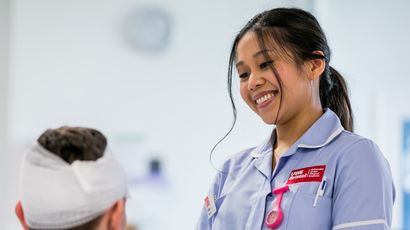 View our range of current higher and degree apprenticeship courses, plus find out about apprenticeships currently under development.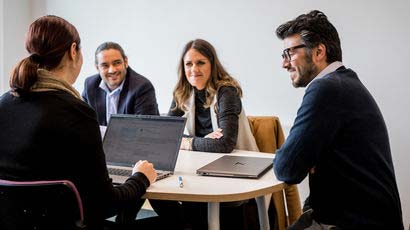 Explore an A–Z of professional short courses available to study at UWE Bristol.