Environmental Practitioner
Gain an understanding of people's relationship with the environment and its management, plus the human factors impacting the environment and sustainability.
About
Our vocational, practice-based Environmental Practitioner Degree Apprenticeship provides a solid foundation of knowledge based on the latest research, and a holistic learning experience relevant to many organisations. These range from environmental consultancies to those required to adopt sustainable practises, such as NHS trusts, the Ministry of Defence and local councils. Due to the urgent global demands posed by climate change, our apprenticeship meets an increased need for qualified professionals working in environmental management roles.
This apprenticeship is aimed at those who want to learn more about the environment and sustainability, with a passion for making a difference through positive, lasting change. By focusing on the relationship between the environment and human behaviour, the course provides a unique balance between social and natural sciences. You'll gain thorough insight into the science behind core environmental challenges affecting the world today, such as waste management, air quality, water use and management and transport.
Gain knowledge and skills in areas such as sustainable technologies and geographical information systems (GIS), which you'll apply to real-world environmental issues. Through innovative, authentic assessments, you'll also develop consultancy skills which you'll practice in your workplace, from report writing and project management, to podcasts and participatory communication techniques.
Whether you're exploring your degree options or looking to progress your career with your employer, our apprenticeship offers an opportunity to achieve a degree while you work.
Course details
Duration, delivery and assessment
This degree apprenticeship is delivered through day release over five years. You will spend one day per week engaging with interactive sessions, practical content and exercises to maximise experiential learning using a problem-based approach. As you progress through the course, you will have the opportunity to specialise in sustainability, biodiversity or rivers and coasts, tailoring your studies to your professional interests.
As an apprentice, you will benefit from peer learning opportunities with full time students and other apprenticeships on the BSc(Hons) Environmental Management course, providing a rich and diverse learning experience. You will also learn through field trips across the UK, offering first-hand experience of environmental management challenges and tools. For example, recent visits have included the Centre for Alternative Technology (CAT) in Wales.
We've designed an innovative, authentic assessment strategy with an applied focus, reflecting professional practice in organisations relevant to environmental management. You will be assessed through a range of assessment methods including blog posts, podcasts, reports, presentations, real-world case-based problems and an independent research project.
Course content
This course has been developed in line with the Level 6 Environmental Practitioner (Degree) standard set out by the Institute for Apprenticeships and Technical Education.
Indicative content
The optional modules listed are those that are most likely to be available, but they may be subject to change.
Year one
Analysing Environmental Change
Environmentalism, Society and Governance
Sustainable Technologies
Year two
Air, Land and Water: Fundamental Processes
An Introduction to Geographic Information Systems and Remote Sensing
Engaging people, communities, and institutions


Year three
Air, Land and Water: Data and Models
Environmental Assessment
Environmental Management in Organisations
Sustainable Resource Management


Year four
Environmental Psychology in the Community
Professional Experience
Plus optional modules (the number will depend on your credit requirements) from:
Climate and Environmental Justice
Ecology
Understanding Coastal Dynamics
Understanding River Dynamics
Water and Energy Futures
Year five
Independent Project (DGEM)
Managing Air Quality
Practising Waste Management
Plus one optional module from:
Biogeography and Conservation
Environment and Behaviour
Managing Rivers and Coasts
Plus Environmental Practitioner (Degree) Apprenticeship Standard End-Point Assessment (EPA)
Qualifications
On successful completion of our Environmental Practitioner Degree Apprenticeship you'll gain a BSc(Hons) Environmental Management qualification from UWE Bristol.
Entry requirements
An apprentice must be in employment with an employer who is able to support the apprenticeship. In addition, the following are required:
Tariff points: 104
GCSE: Grade C/4 or above in English Literature or Language and Mathematics, or equivalent. We do not accept Level 2 Key Skills, Functional Skills or Certificate in Adult Numeracy and Literacy as alternatives to GCSEs.
English Language Requirements: International and EU applicants are required to have a minimum overall IELTS (Academic) score of 6.0 with 5.5 in each component (or approved equivalent).
A-level subjects: No specific subjects required.
EDEXCEL (BTEC) Diploma: No specific subjects required. For information on required Guided Learning Hours please see our minimum entry requirements page.
Access: No specific subjects required.
Baccalaureate IB: No specific subjects required.
Irish Highers: No specific subjects required.
T Levels: No specific subjects required.
How to apply
Prospective students may only apply for a degree apprenticeship through their employer. If you are interested in any of our degree apprenticeship programmes, speak to your employer in the first instance. There is funding available to sponsor employees' professional development on degree apprenticeships. We will work with your employer directly to manage your application.
Benefits for business
Designed in discussion with employers, this Environmental Practitioner Degree Apprenticeship integrates core skills into the learning journey from the outset. This collaboration ensures the skills and knowledge gained are desirable and relevant to a wide range of organisations with environmental responsibilities. Your apprentice will become adaptable to broad environmental issues, applying their new knowledge to on-the-job training in your own workplace context.
Throughout their apprenticeship, your apprentice will learn from experts in the field and through research projects across the department. These rich learning opportunities will broaden their knowledge, which they'll apply and share to drive improvements within your workplace, benefitting your team and wider organisation.
Our apprenticeship allows you to develop your existing workforce and address sustainability skills gaps within your organisation, without needing to recruit new talent. Your apprentice will study their degree alongside their employment, so they won't need to take significant time away from work. By training and upskilling your apprentice and providing opportunities for them to progress their career, you'll improve employee retention within your organisation.
Why UWE Bristol?
UWE Bristol is an established apprenticeship provider in the West of England, delivering apprenticeships locally, regionally and nationally. Our Environmental Practitioner Degree Apprenticeship offers a unique balance of social and natural sciences, critical to environmental management and sustainability. Our inclusion of the emerging discipline of environmental psychology explores the relationship between the environment and human behaviour.
You'll gain an understanding of the human factors affecting the environment, and how understanding differences in people and their attitude and behaviour can impact sustainability.
Developing this understanding will enable you to engage with a wide range of stakeholders, including the public, with the aim of encouraging their participation in environmental action.
You'll learn from experts in environmental psychology, environmental planning and development, sustainability, and ecology, water and air management. Many of our academics have previously worked in environmental assessment and consultancy roles in the industry, offering real-world professional insight. You'll also receive regular student support through quarterly tripartite meetings, offering regular opportunities to review your progress.
UWE Bristol is a member of the Bristol Green Capital Partnership network, resulting in many opportunities across the local area. As a global leader in sustainability and place leadership, the environmental sector is well-developed in Bristol. The city is renowned for its sustainability initiatives and is currently working towards the One City Climate Strategy (2019-23), making it desirable to study environmental management in this area.
You may also be interested in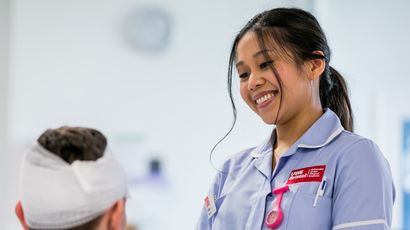 View our range of current higher and degree apprenticeship courses, plus find out about apprenticeships currently under development.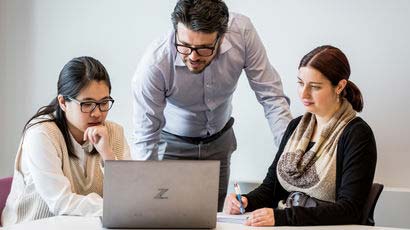 UWE Bristol's range of continuing professional development courses and short course study has been designed to help you achieve your career ambitions and maximise your potential.