Advanced Clinical Practitioner Degree Apprenticeship
This degree apprenticeship has been designed by sector leaders to equip health professionals to perform an advanced clinical role.
About
UWE Bristol degree apprenticeships combine on-the-job training with study, allowing apprentices to develop specialist skills and knowledge.
Advanced Clinical Practitioners are experienced clinicians who independently manage the clinical care process from start to finish. Working across traditional health and social care boundaries, they combine expert clinical skills with research, education and leadership.
This programme will suit registered clinicians currently employed in health or social care and has been designed in partnership with employers to prepare a multi-professional workforce for work at the top of their registration.
Course details
Co-created with employers, this three-year programme consists of 20-credit modules, each lasting 200 hours. Apprentices will study for 60 credits each year, as well as attending specially created action learning sets which will explore elements of the new role. Contact time is split between face-to-face teaching and work-based learning opportunities.
On-site teaching incorporates lectures, simulations, action-learning sets, group work and self-directed learning. It represents an element of the 20% off-the-job training and enhanced learning that the apprenticeship offers.
Learners will be assessed through coursework, examinations, presentations, Objective Structured Clinical Examinations (OSCEs), and a portfolio of work.
Year one
Leadership, Complexity and Change in Healthcare: Theory, practice and development
Physical Assessment and Clinical Reasoning.
Leadership and Innovation.
Pathophysiology and Diagnostic Reasoning for Advanced Practice.
Year two
Non-Medical Prescribing (Independent and/or Supplementary Prescribing).
Health and Social Care Research for Advanced Practitioner.
Year three
Evidencing Work Based Learning for Advanced Clinical Practitioner.
Advanced Clinical Practitioner Synoptic Module (incorporating apprenticeship end point assessment).
Please note these modules are indicative and can vary.
Read more about the approved apprenticeship Standard on the Gov.uk website.
Qualification, professional registration and accreditation
Successful graduates will gain a Master's degree in Advanced Clinical Practice.
This programme is accredited by the Centre for Advancing Practice.
Health Education England's Centre for Advancing Practice has been established to standardise post-registration education by accrediting advanced practice courses that achieve the standards outlined in the multi-professional Advanced Practice Framework.
Practitioners who have completed accredited education programmes will be eligible to be listed on the Centre's Advanced Practice Directory.
Programme accreditation from the Centre for Advancing Practice will bring a new level of consistency to the workforce and help showcase advanced practice within health and social care.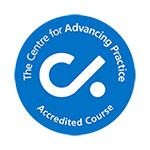 Entry requirements
All apprentices must be employed by a health or social care organisation.
The apprentice must hold current registration with one of the statutory regulators of health and care professions i.e. NMC and/or HCPC/GPC.
The normal entry requirement is a first degree from a recognised institution of higher education or its equivalent in a relevant subject area. This will constitute standard entry to the postgraduate programme.
Grade C/4 or above in GCSE English and Mathematics or Functional Skills Level 2 in English and Mathematics or equivalent.
Health checks
You must be in good health and up-to-date with all routine immunisations that are required for working in health and social care settings. The Department of Health (Nov, 2021) has stated that all health and social care workers (including students and volunteers) MUST be fully vaccinated for Covid-19 by the 1st of April 2022. If your course includes placements in any health or social care settings, you will be required to show proof of your Covid vaccinations.
If you are offered a place on one of our health and social care programmes, you will be required to complete a questionnaire and must be prepared to undergo a medical examination. You will also be required to confirm your status in respect of a number of infectious diseases (tuberculosis, measles, mumps, rubella, chicken pox, varicella, hepatitis B, hepatitis C, HIV antibodies, Covid-19) and be prepared to have all required vaccinations. Please note that the list of required vaccinations may change, in response to advice from the Department of Health.
If your vaccinations are not up-to-date, this will affect your ability to continue on your course. If you have any concerns with regards to vaccinations please raise this at the point of application.
If you were vaccinated outside of the UK and want to check if your Covid-19 vaccine is recognised in the UK please check the UK government website.
How to apply
Prospective students may only apply for a degree apprenticeship through their employer. If you are interested in any of our degree apprenticeship programmes, speak to your employer in the first instance. There is funding available to sponsor employees' professional development on degree apprenticeships. We will work with your employer directly to manage your application.
Benefits for businesses
This degree apprenticeship will enable your registered clinicians to build the Master's-level expertise required to become an Advanced Clinical Practitioner. They'll apply their learning directly to your practice, keeping you up-to-date with the latest theory and methodology from the start.
Advanced practice training allows you to address medical staffing issues by building a multi-professional workforce. It represents a rewarding clinically-facing career option for experienced staff, while enabling you to build resilient teams who deliver high-quality, safe patient care.
With a clear focus on the clinical component, the Advanced Clinical Practitioner Degree Apprenticeship will address all four pillars of advanced practice. Your employees will build the confidence and skills needed to carry out a range of interventions with a high level of autonomy, and to drive service improvements through reflection on their practice.
Why UWE Bristol?
Our Advanced Clinical Practitioner Degree Apprenticeship programme is fully aligned with the work of the Academy of Advanced Clinical Practitioners. You will be taught by an expert multi-professional team, many of whom work in clinical practice as advanced practitioners alongside their academic commitments.
Because one member of our team also belongs to the steering group which is responsible for the national roll-out of this programme, we're able to ensure that training is entirely current and applicable to your practice.
Throughout the programme, apprentices will take part in action learning sets, allowing you to actively explore important issues such as professional identity, resilience and the art of negotiation in a busy clinical situation.
Apprentices will also have access to our first-class facilities at Glenside Campus, which include a sensory room, simulation suites, a replica ward and consultation rooms, all equipped with up-to-the-minute technology.
Glenside is home to one of UK's best health and social care libraries, providing all the resources apprentices need to support their learning.
Contact the Degree Apprenticeship Team
To find out more about Advanced Clinical Practitioner Degree Apprenticeship, or for more information about the levy, funding available and degree apprenticeships, please email our Degree Apprenticeships Team at apprenticeships@uwe.ac.uk or call us on +44 (0)117 328 4888.
You may also be interested in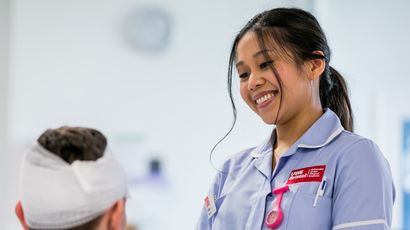 View our range of current higher and degree apprenticeship courses, plus find out about apprenticeships currently under development.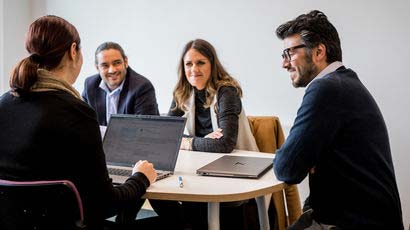 Explore an A–Z of professional short courses available to study at UWE Bristol.